Hi and Welcome to the first post here on Evelin T Designs! I'm Evelin Tee, designer and owner of Evelin T Designs and I am so glad you are here. I grew up in sunny Malaysia and moved to Southern California with my husband in 2012. We have a darling boy and are expecting another baby boy this May 18th. Drawing and creating has always been close to my heart and it has truly been a blessing that I was given the opportunity to design stamp sets for a few amazing companies since 2014.
With the encouragement and support from my husband and a dear friend whom I also call a mentor, I finally made the decision to launch my designs through my own company.  Our mission is to "bring Joy through stamping". Personally, stamping has brought me much joy since I discovered card making back in 2008 during my time in the corporate world. Through card making, I have 'met' and developed some amazing friendships with crafters around the world which in turn, opened up opportunities for me to design stamp sets and now, designing for my own company.
And as for our logo, it is handwritten by me and it's a way of reflecting how I would like to be as personal as I can with my products to all of you, throughout the whole process of it all. To me, this is a very personal and intimate journey and I am so glad I get to share it with all of you.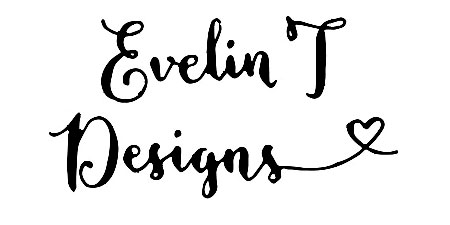 Join us over the next week as we sneak more pics in preparation for our first release. Our store will go live Monday, May 6th at 11am EST. In the meantime, we would love for you to connect with us…
Join our mailing list so that we can keep you in the loop of our next release and share inspirations! Sign-up form is at the top of the blog.
Follow us on Instagram – our handle is @evelintdesigns
Connect with us on Facebook!
Follow my kiddo and I on YouTube for crafty inspirations
I just want to say a huge THANK YOU again to all of you for your support and encouragement. This is a labor of love and I am so glad that you are here to see this dream come to fruition. For those of you that are new, I am so excited that you are here. 
Love,
Evelin