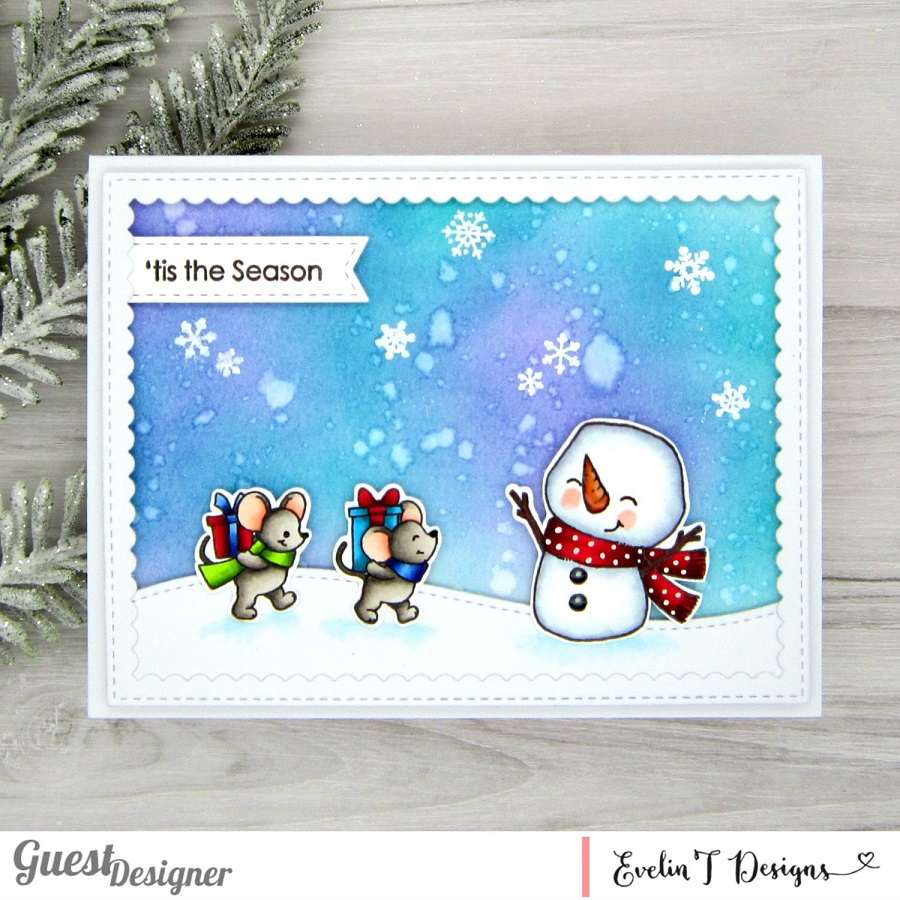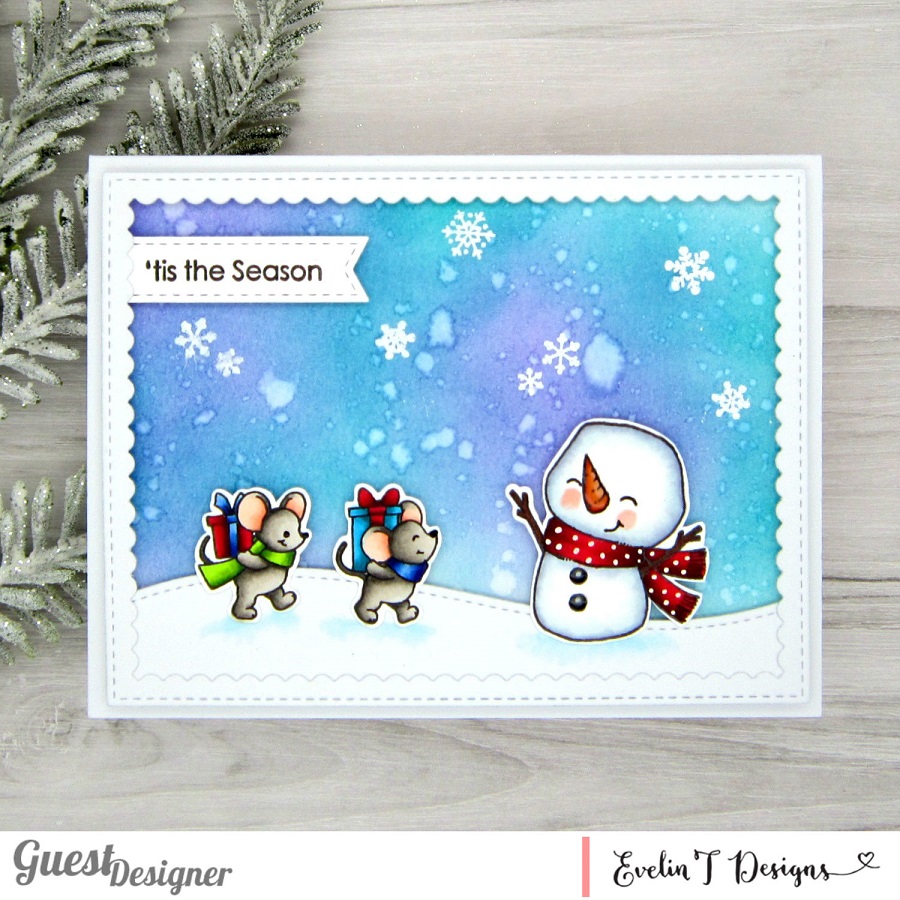 Hello everyone! It's Anita here and I am so happy to once again guest design for Evelin T Designs! I have two cards to share with you today.
Tis The Season
For my first card I used the cute snowman and mice from the Good Tidings To You stamp set. First, I cut a panel of watercolor paper and used Peacock Feathers and Wilted Violet distress inks to make an inky background. Then, I spattered water drops and once the panel was dry I heat-embossed snowflakes on the panel.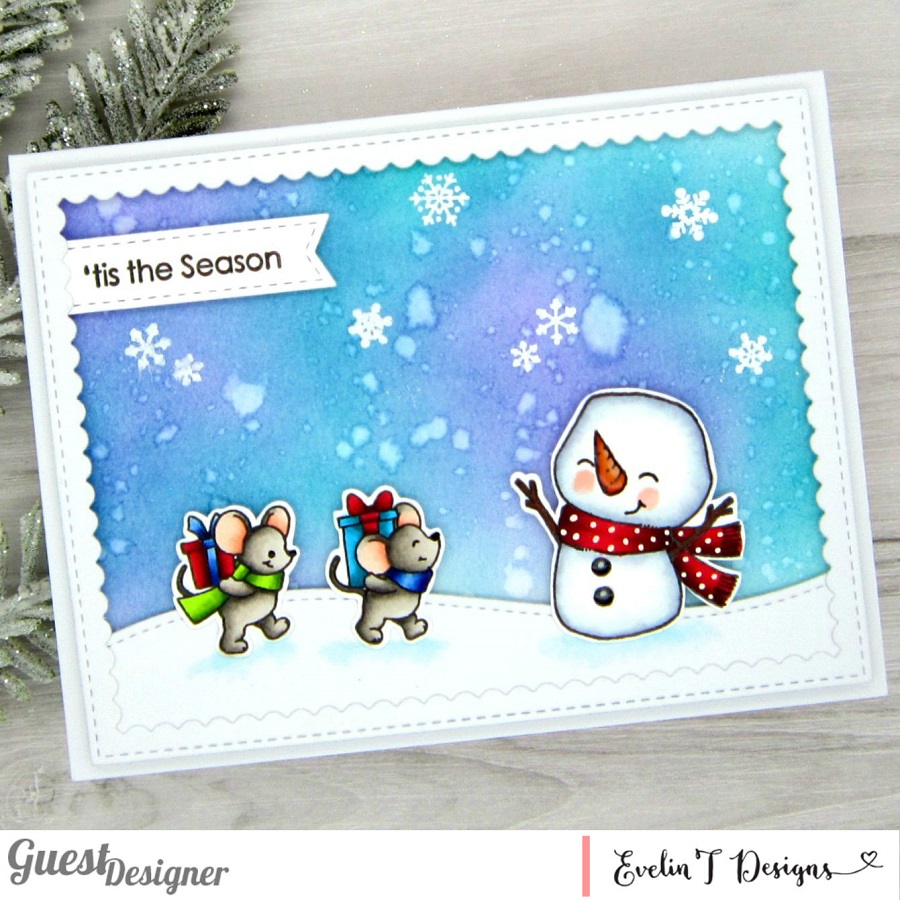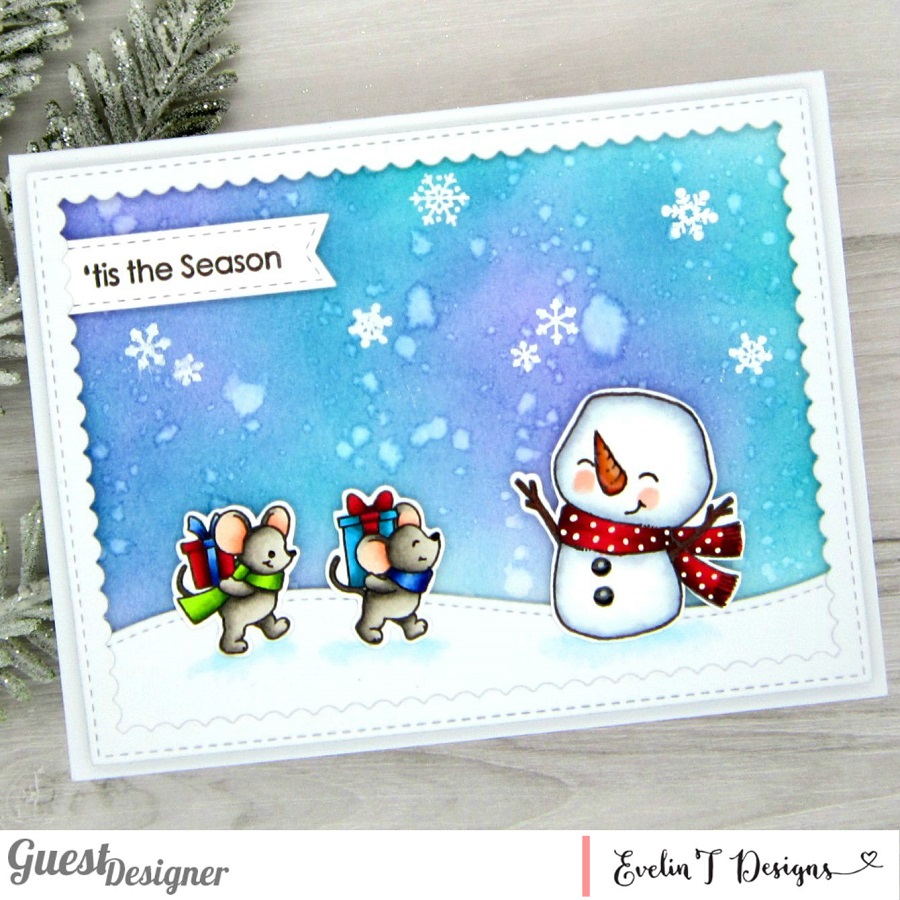 Next, I used foam tape to adhere a snowy slope and added a scalloped frame to create interest. I colored the snowman and mice with copics and then fussy-cut them. To add polka-dots to the snowman's scarf, I used a white gel pen. Finally, I applied crystal glaze to the snowman's nose and buttons and adhered all the images with foam tape.
Copics Used:
Snowman – BV20, BG70; R11; E27, YR18, YR14, YR12, YR00; N8, N6, N4
Mice – W5, W3, W1, W0; E02, E01, E000
Scarves – R59, R37, R35; B29, B26, B24, B21; YG17, YG03, YG01
Gifts – BG07, BG05, BG02; R59, R37, R35; B29, B26, B24, B21
You Warm My Heart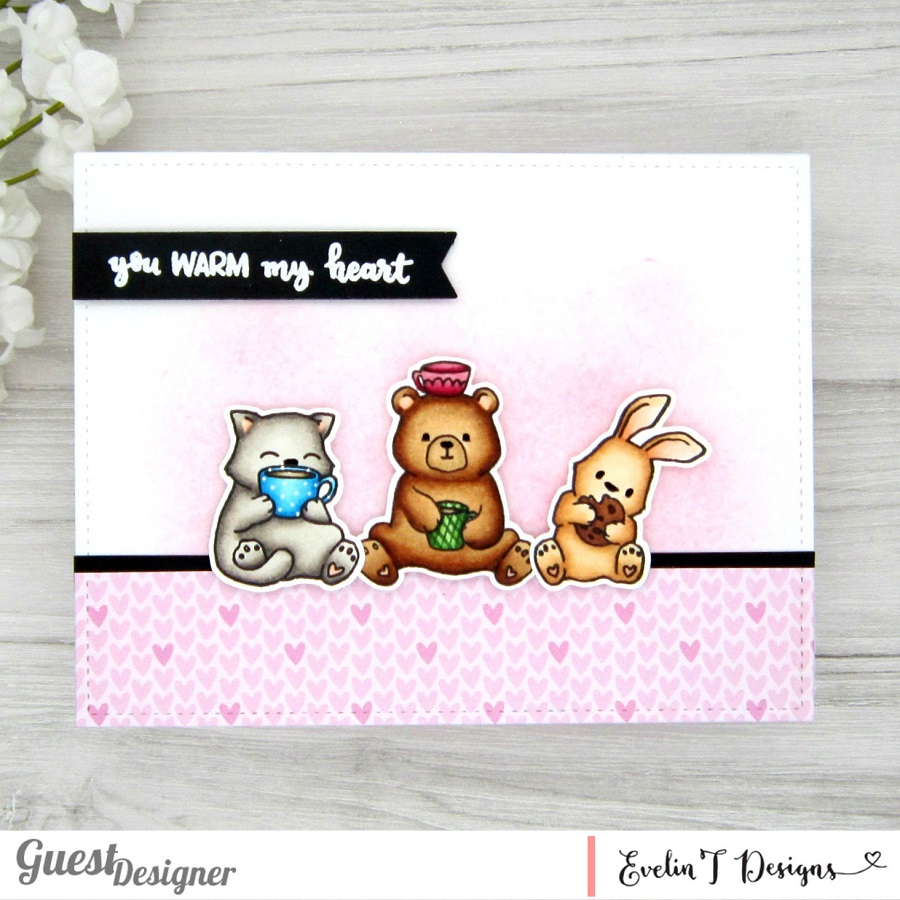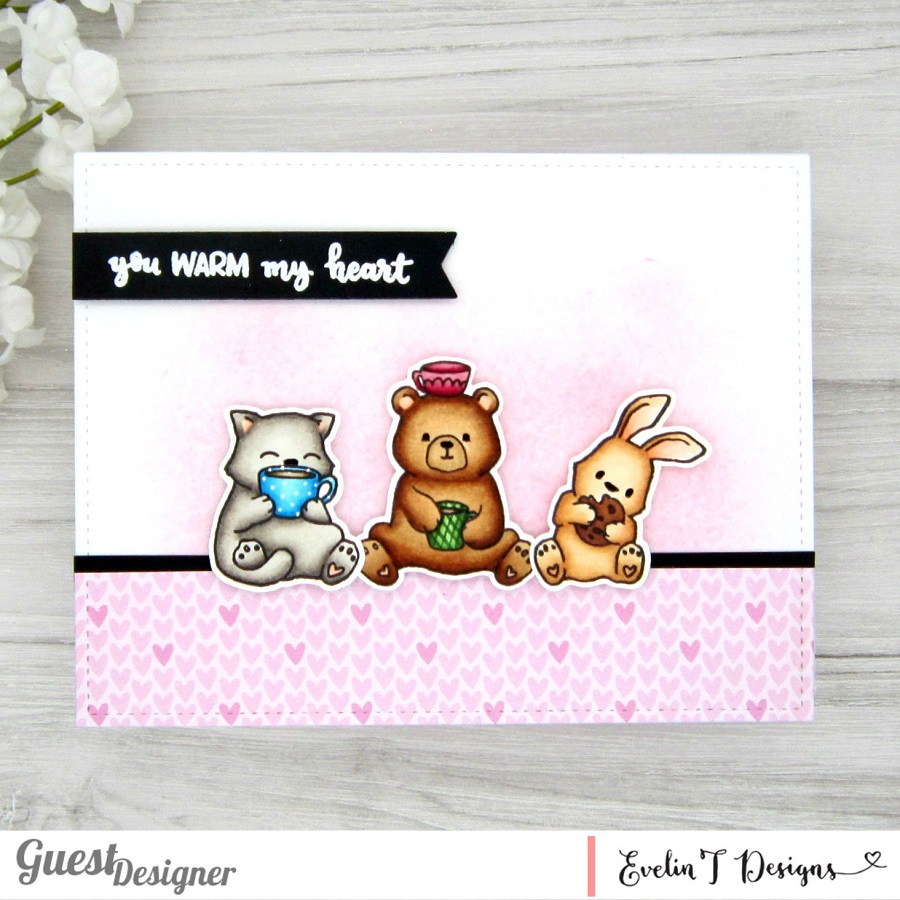 For my second card I used some cute animals from the Coffee Loving Critters stamp set. To start, I diecut a panel from bristol card and sponged it with Picked Raspberry Distress Oxide Ink. Then, I added a strip of pattern paper and black cardstock along the bottom edge of my card to ground the animals.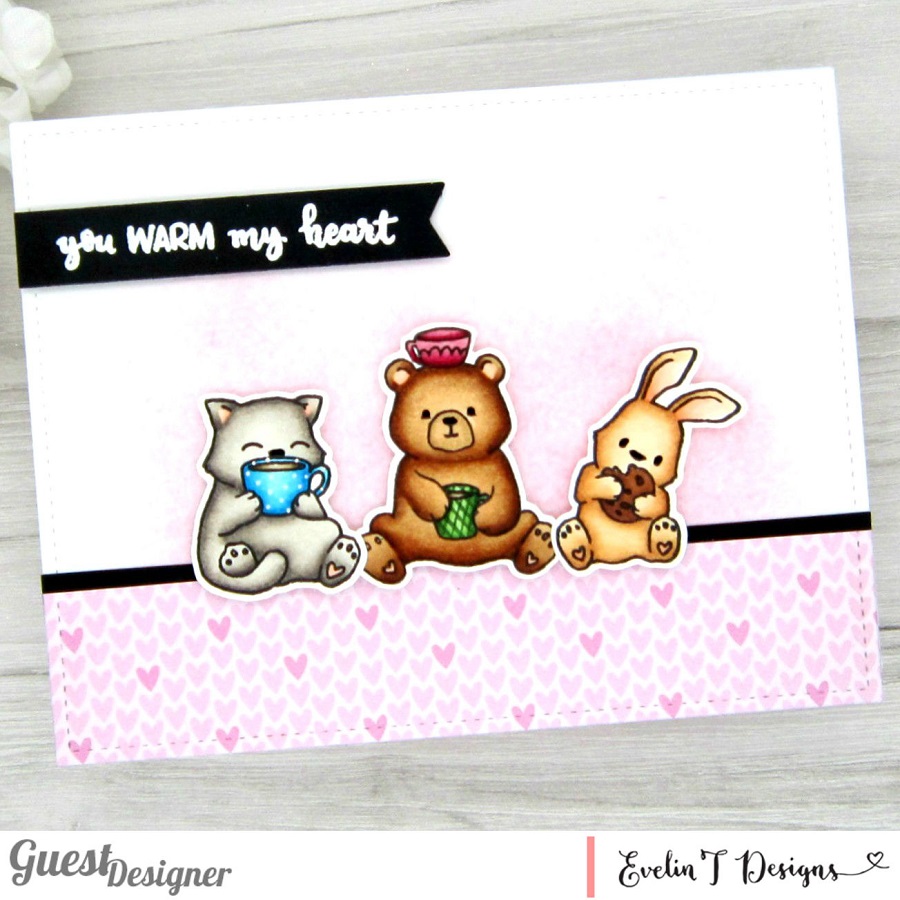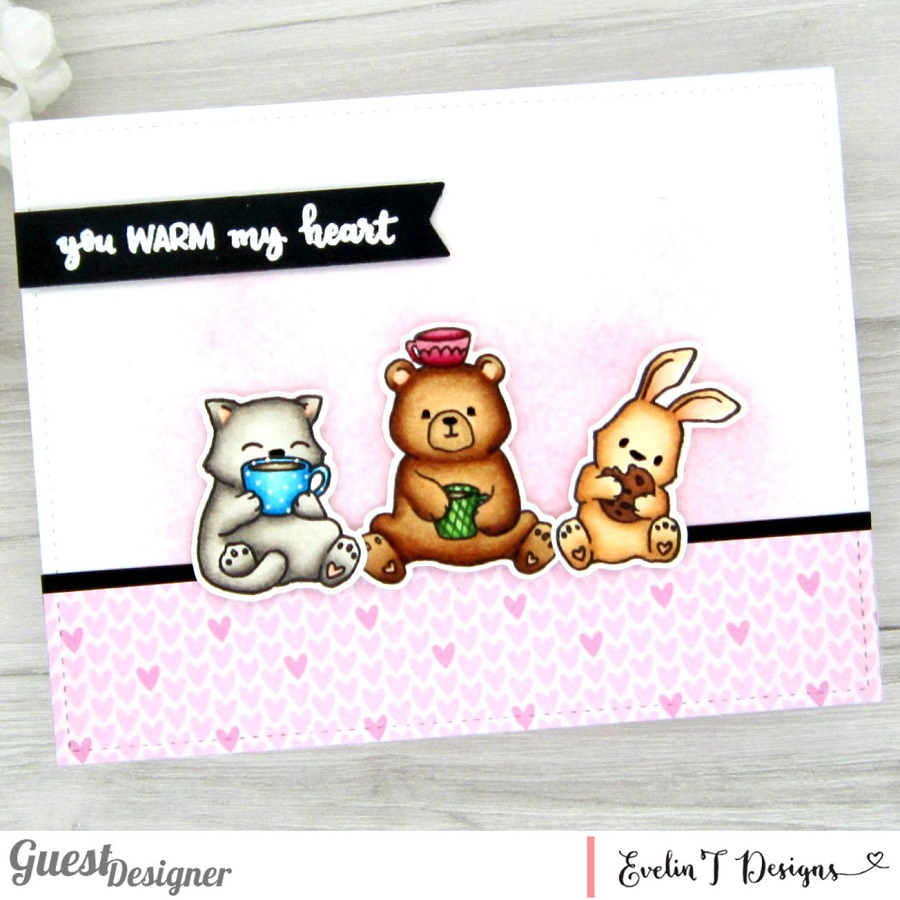 I colored the animals with copics, fussy-cut them and adhered them with foam tape. To make the eyes pop, I used a black glaze pen on their eyes and noses. Finally, I heat-embossed the sentiment on black cardstock and adhered it to my card with foam tape.
Copics Used:
Cat – W3, W1, W0; E01, E000
Bear – E35, E33, E31, E30; E01, E000
Bunny – E53, E51, E50; E01, E000
Cups – B05, B02, B01, B000; E44, E43, E42; G46, G43, G40; R89, R85, R83, R81
Cookie – E27, E25, E23
I want to thank Evelin for inviting me to guest design! I had so much fun and I hope I've inspired you to get inky with Evelin T Designs.
Anita
Compensated affiliate links may be used  – that means if you make a purchase using the links, we receive a small commission at no extra cost to you. Thank you for your support of our work on this blog!