Hi friends, it's Friday again and that means I have uploaded yet another video on my YouTube channel! Yeay!! Okay, so I know it's only been my second week keeping up with my commitment to blog and upload videos regularly but in a way, I just want to give myself a pat on the back that I did keep my promise. Kinda like a self-encouragement to keep up with this effort.
This week's video is about using watercolors to stamp. If you know me, I like to experiment with different mediums to stamp or create cards. I also like to share techniques that will inspire you to use the stamps/materials you already have in your stash. I use a lot of stamps I currently own as well… so, I am not super 'on trend' but I believe most techniques can be used for both older or newer designs. We don't always have to run out and buy the newest item on the block… hehe.

For this card, I am using two stamp sets from Evelin T Designs – Evergreen Foliage and Take a Leap of Faith and watercolors from Schmincke and Faber-Castell Polychromos colored pencils. In this video, I shared the trials and error and how it feels to stamp with watercolor. Also, some random updates about life and how I sometimes change my idea midway while filming.. haha. I hope you will click to see how I created this card and if there are any critters or designs you would like to see me draw, I can also do that and offer it as a digital set on my website!
Art and Draw: Kawaii Mochi Stick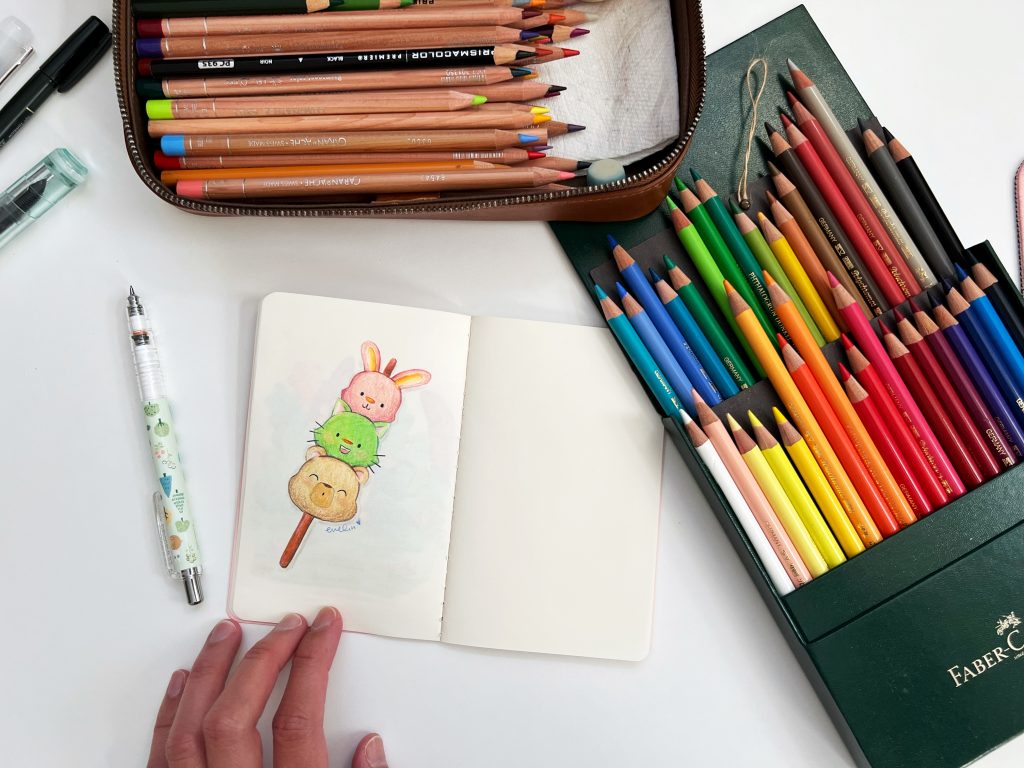 Last week, I shared a sketch and draw process video of me drawing a kawaii mochi stick a.k.a hanami dango (something I learned while drawing this illutration. Yeay me!). If you have not checked it out yet, I hope that you will… right after you watched this week's video, of course! 😀
And I just want to let you know that there is a 25% OFF sale for ALL stamps in the SHOP. Just use code "BTS25OFF" when you check out to activate your savings!
And that's it for this post. I can't wait for the weekend and bring the kids hiking again. Do you have any weekend plans? Please let me know in the comments below.

Till next Friday. Take care!
– Eve


*This post contains affiliate links. This means that as an Amazon Associate, I may earn a commission from qualifying purchases should you choose to make a purchase using my link.