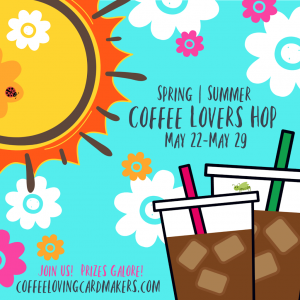 What's better than coffee? Cute critters drinking coffee! In fact, Evelin T Designs has a stamp set by that exact name that has recently been restocked – the adorable Coffee Loving Critters (also available at EH | SSS)! My card features the adorable kitty from that set, enjoying her latte in a pink mug with some catnip by her side. LOL
The sentiment is also from Coffee Loving Critters, the little plant is from All Hallow's Cuteness (also available at EH | SSS) and the banner is from Framed, a stamp and die set that Evelin designed for Winnie & Walter. Unfortunately, Winnie & Walter is no longer in business but you might be able to find a secondhand set somewhere out in the crafty universe.
To make this card, I used my MISTI stamping tool to stamp all the images. I created masks to protect all the images, stamping the kitty first, then the plant and finally the banner. I left the masks in place so I could ink blend the background with four Simon Hurley create inks. After blending, I splattered the background with water, white mist and shimmer mist.
Continue reading 2020 Spring | Summer Coffee Lovers Blog Hop feat. Coffee Loving Critters