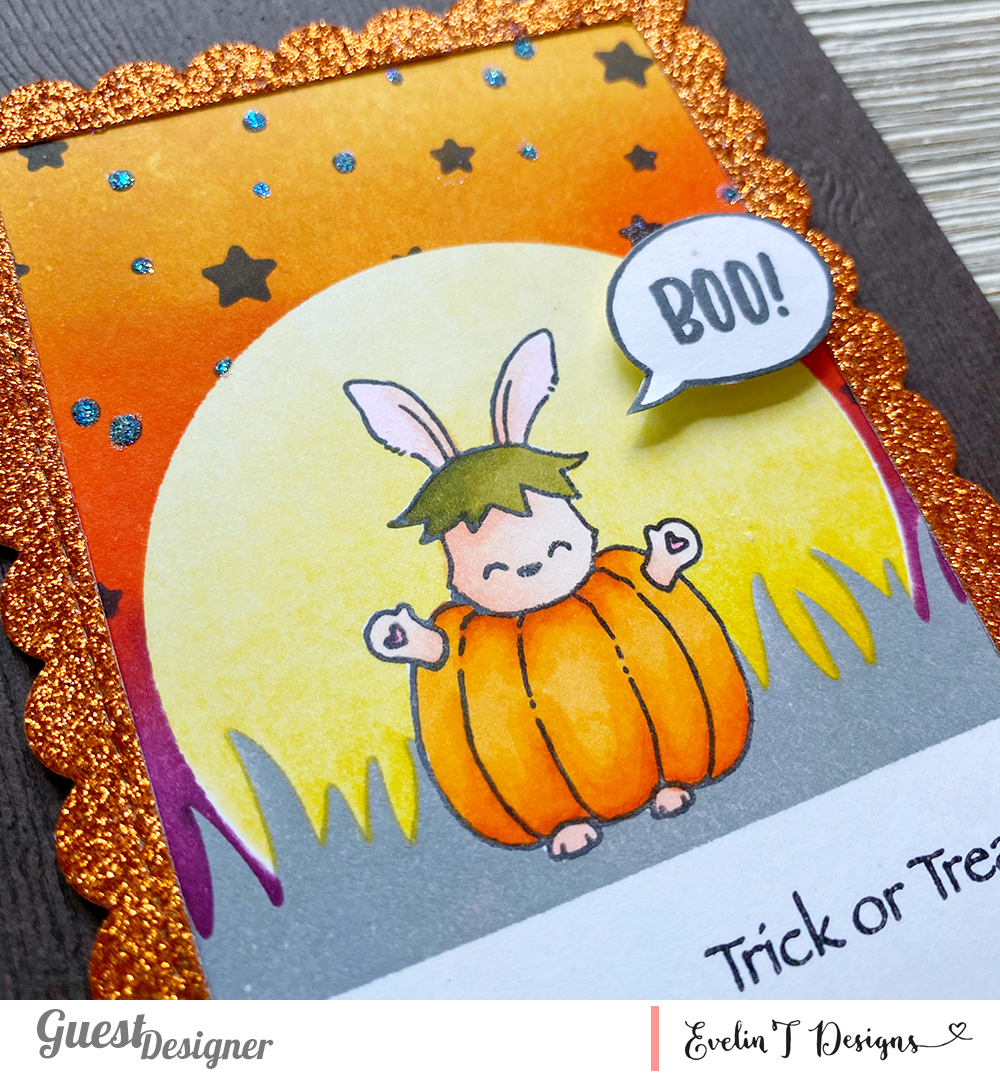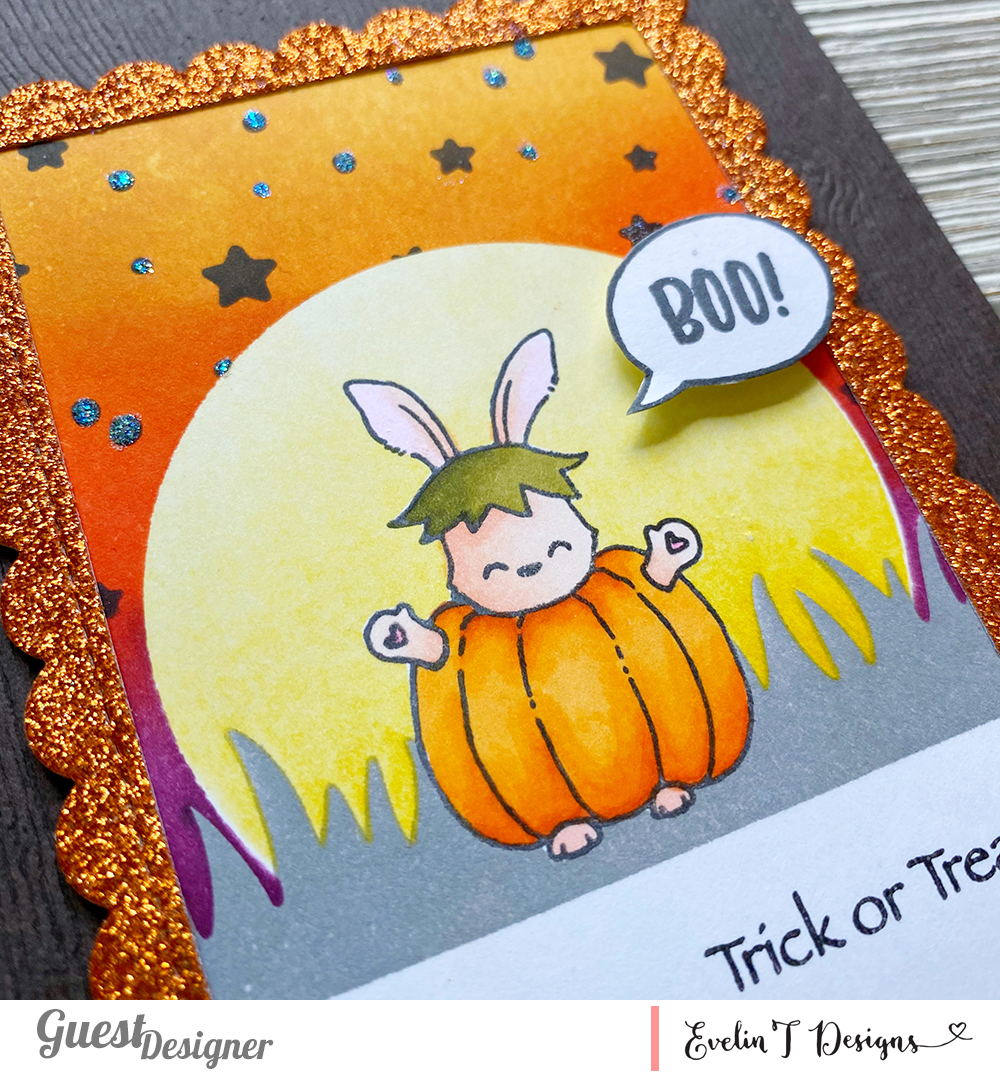 Hello everyone! Jenn Shurkus from shurkus.com back here today to inspire you with some fun masking and stenciling techniques. Fall is here, a perfect time to create some Halloween cards. I know trick-or-treating may look a little different this year, so I wanted to create some fun cards to send to my niece and nephews.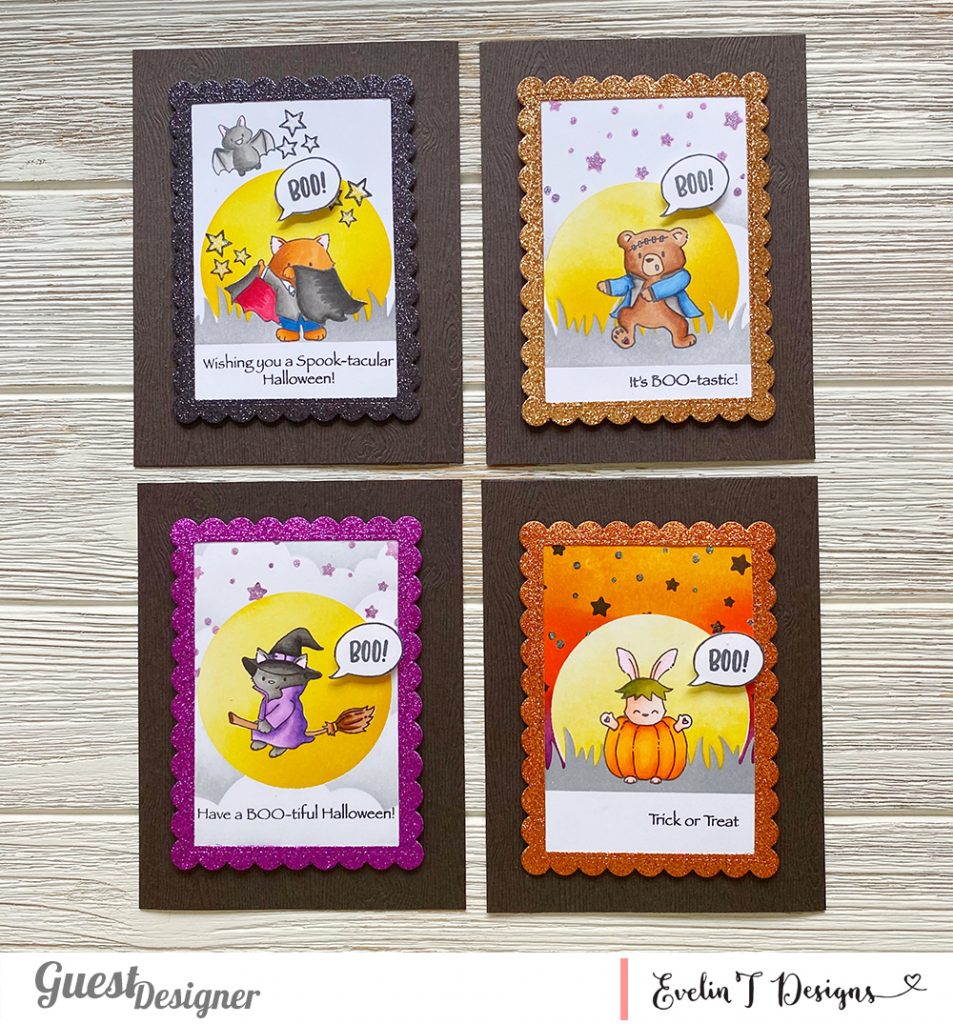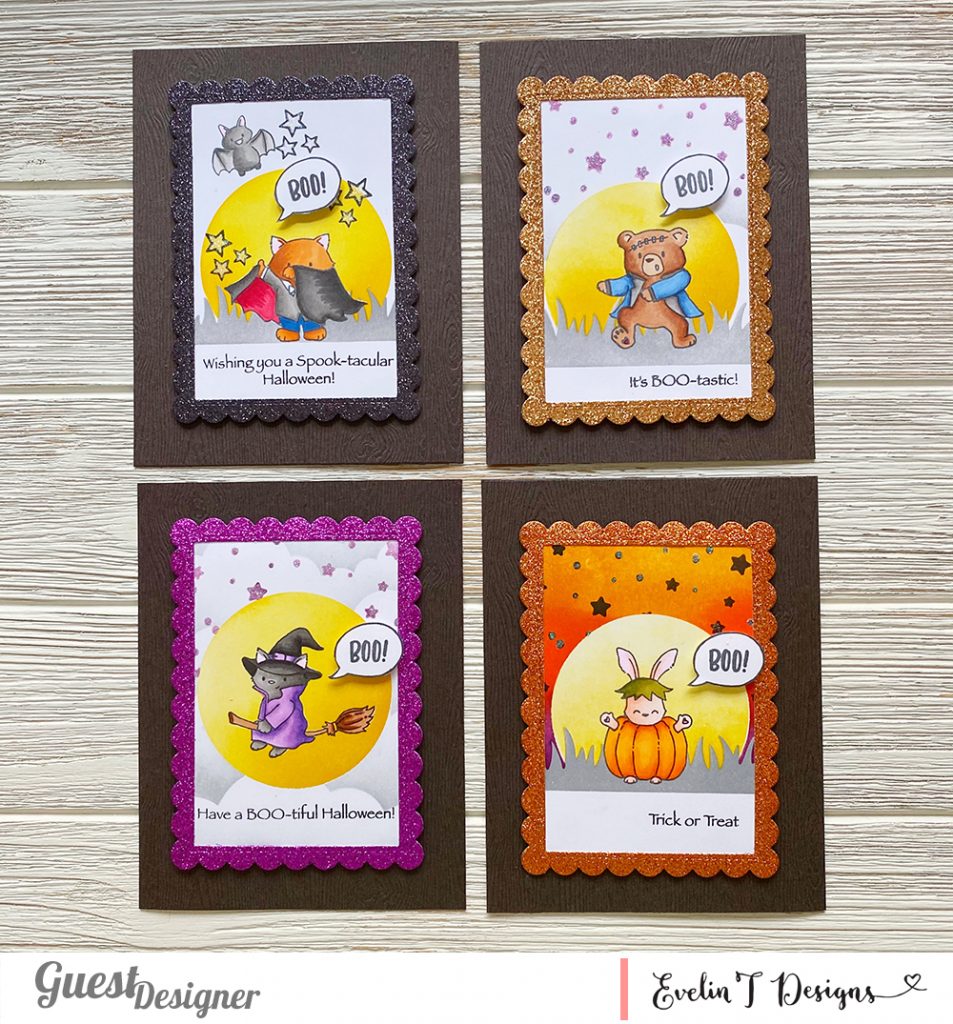 I used the Its BOO-tastic and All Hallow's Cuteness stamp sets to create this set of cards. Firstly, I started off by stamping one critter per sheet of cardstock. Then, I colored them with Copic markers and stamped the images again on masking paper, fussy cut them out and covered each of the images with the mask.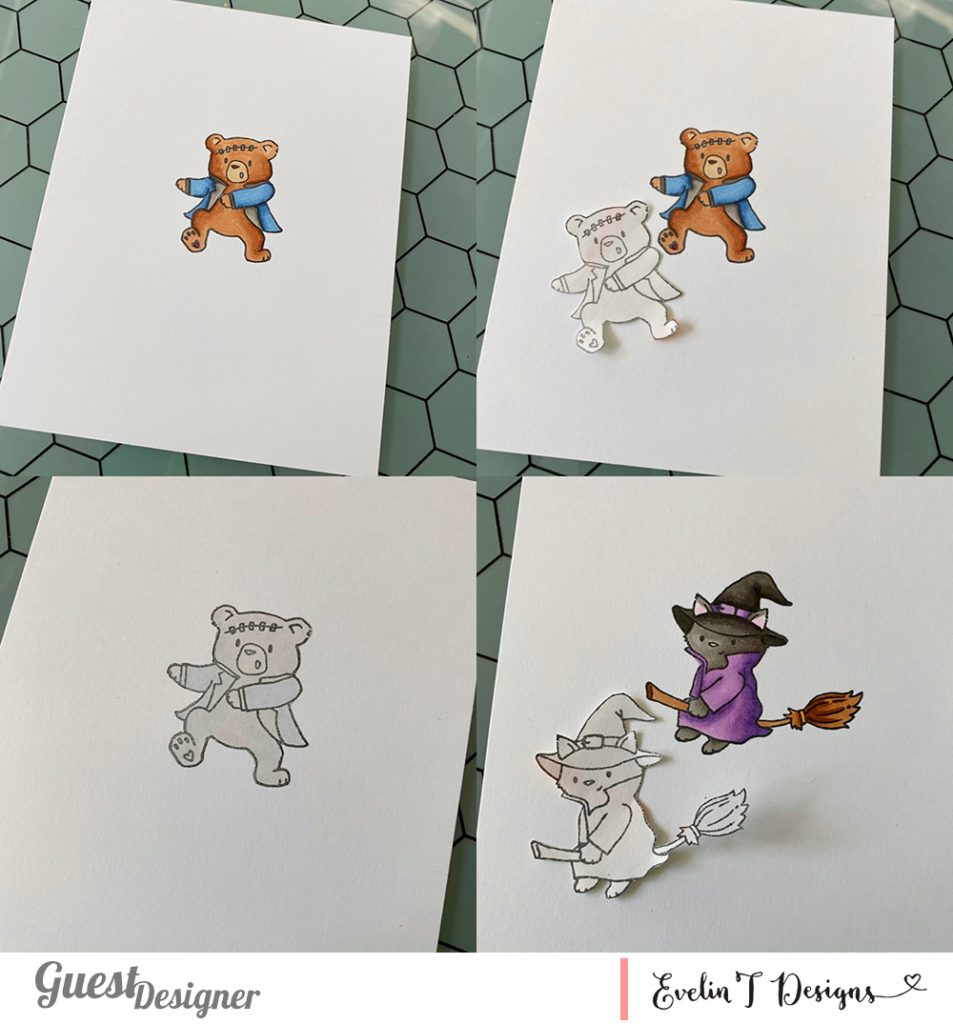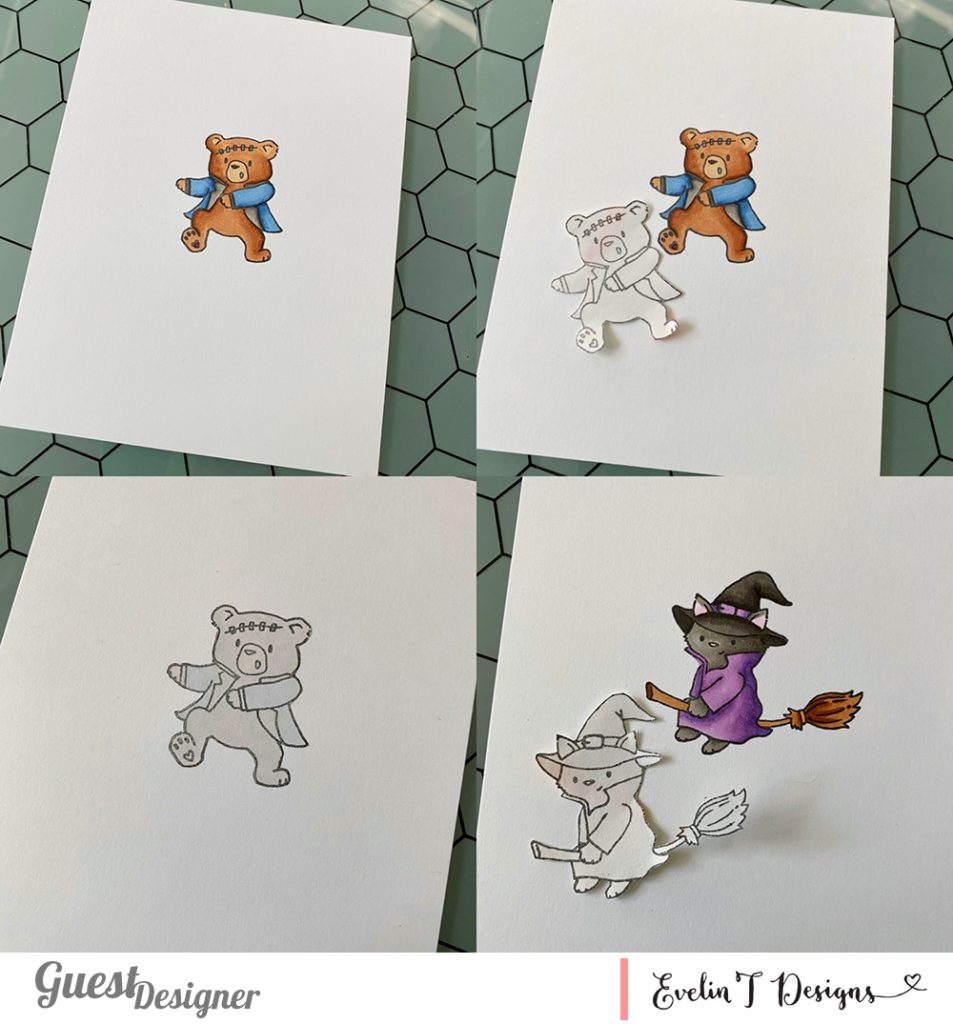 Next, I started to build a scene for each critter using some stencils. I used a grass, clouds, a starry background, and a moon stencil. The moon stencil I created myself, by die-cutting out a circle from a plastic piece. You can see in the first photo below. I will end up using the positive and negative of this "moon stencil".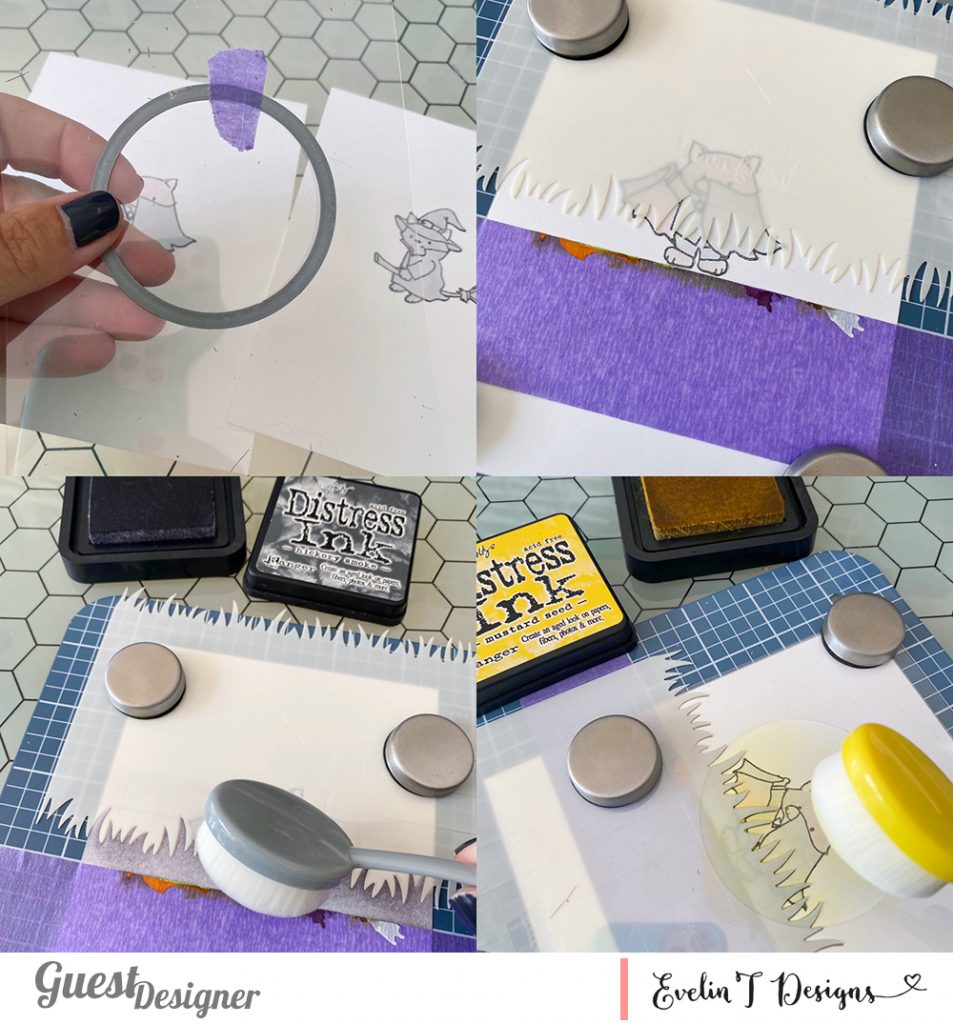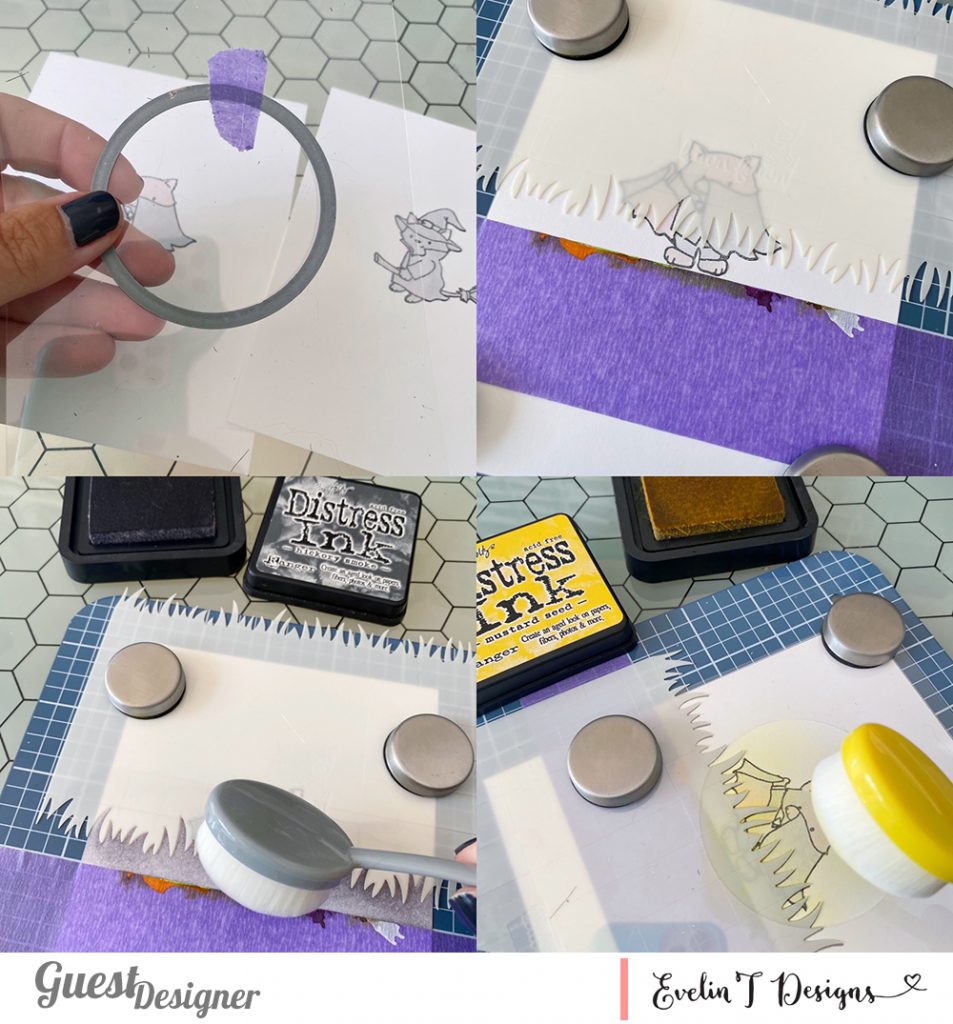 Using the Wendi Vecchi Stay-tion, which is a magnetic board has made working with stencils SO MUCH easier, and more enjoyable. I find myself wanting to stencil more! I start with that and lay down one of the critter cardstocks. Then I use Thermo-Web purple tape to create a clean line and hold the paper in place. Because I knew I was going to do a lot of ink blending above the tape, this will keep any ink from getting where I don't want it.
Next, I started by inking the grass, using a stencil, blender brush and Hickory Smoke Distress Ink. This particular grass stencil has a mask on the other side, so I slid the stencil down, to mask it and layered on top the sheet of plastic I cut a circle from. I then ink blended the moon with a blender brush and Mustard Seed Distress Ink. I also used a touch of Fossilized Amber Distress Ink to ink the bottom edges of the moon to give it dimension.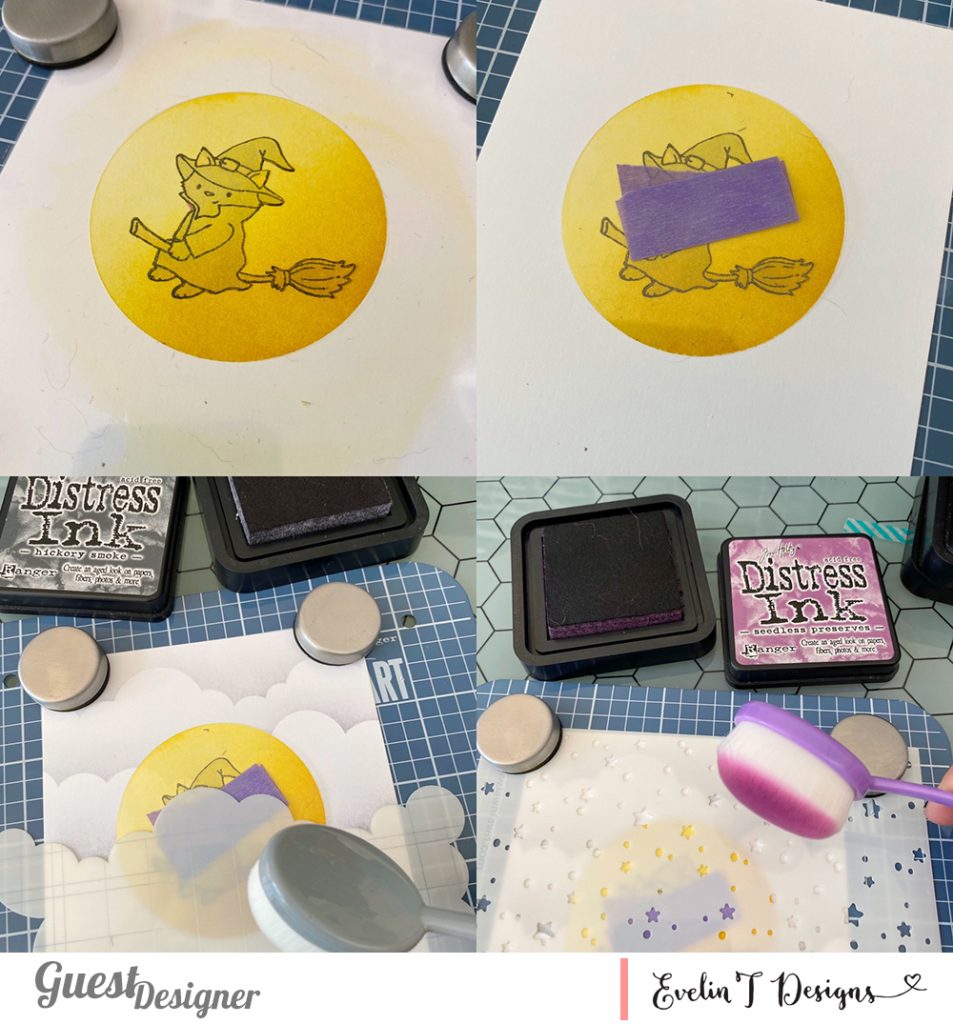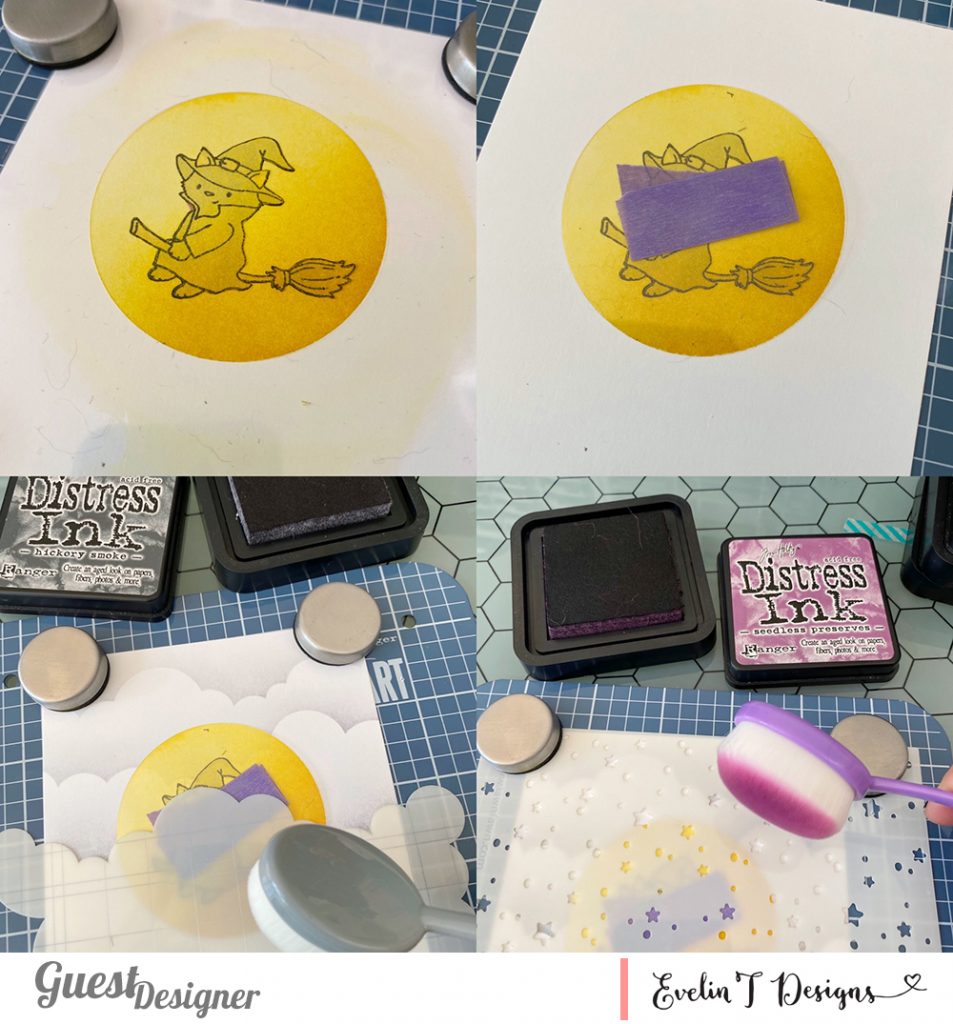 If I wanted to cover the moon, so that I could add clouds and or stars like above, I used a piece of Purple Tape, rolled to hold that circle that I die-cut out of plastic over the moon. I then ink blended the clouds using a blender brush and Hickory Smoke Distress Ink. Keeping the moon mask in place, I then placed a starry stencil over it, and ink blended that with Seedless Preserves Distress Ink.
When masking, and layering a one layer card or background like this- plan out what you want your scene to look like and work backwards. Whatever is furthest away, or back in layers is what you would do first. The items that you mask will be in the front or foreground when all is done.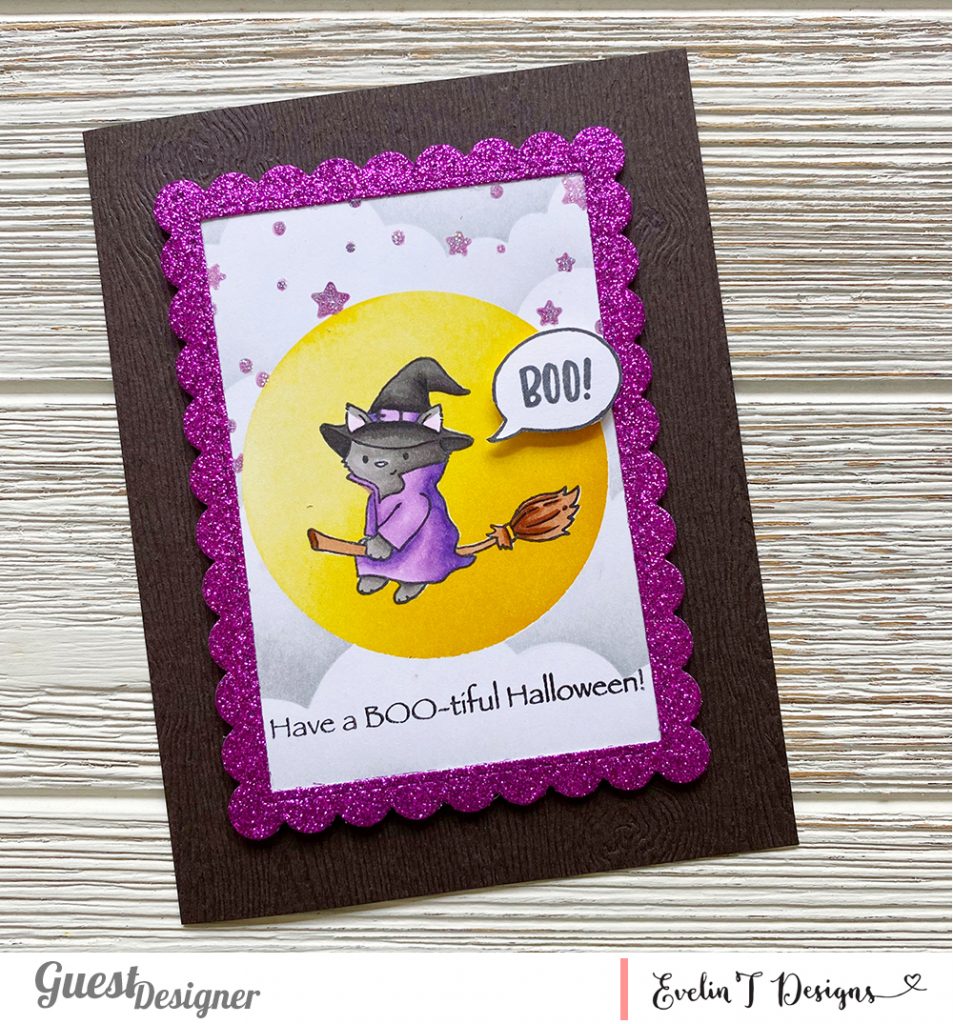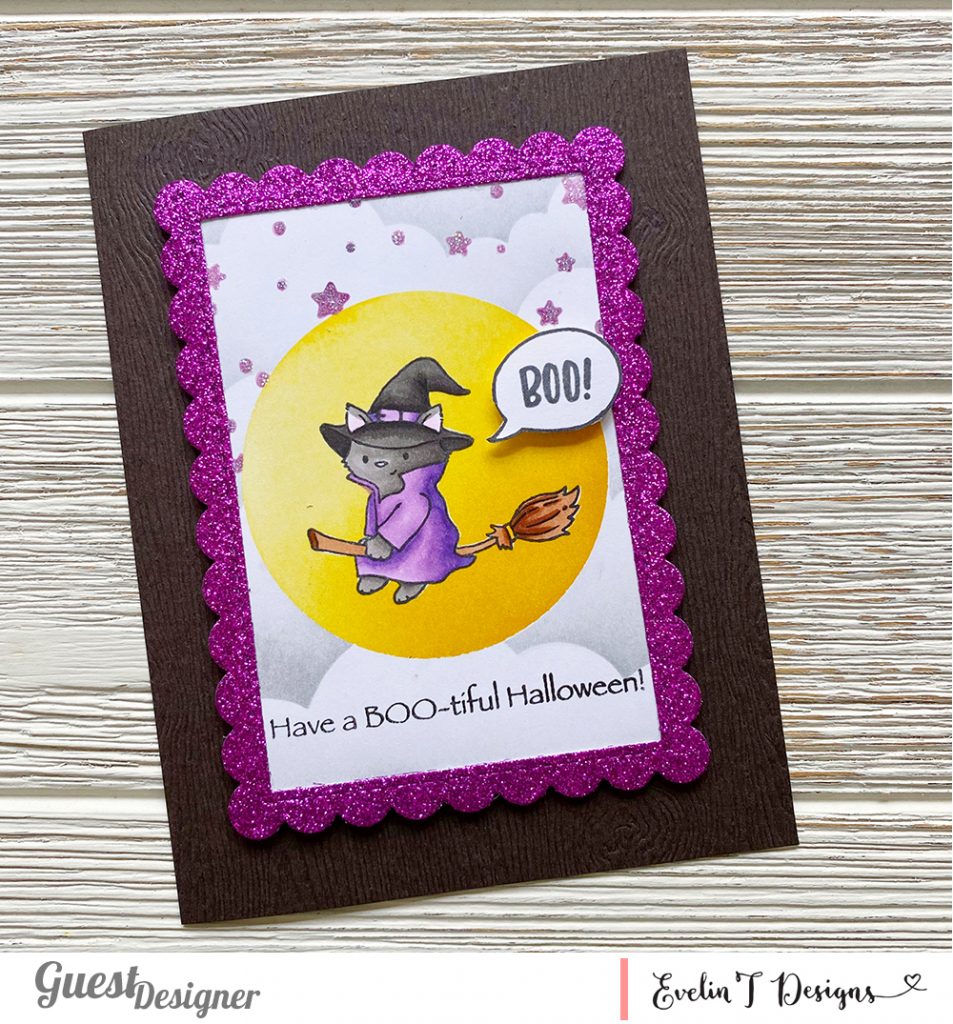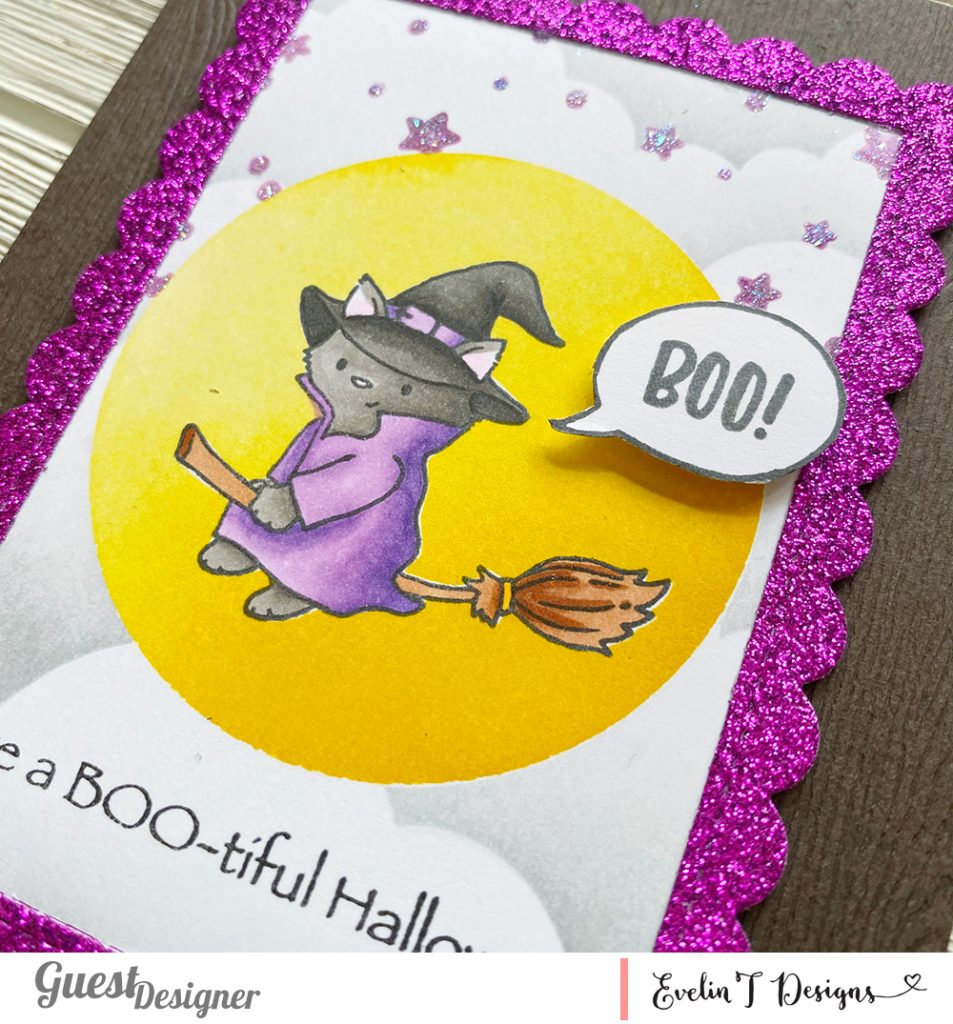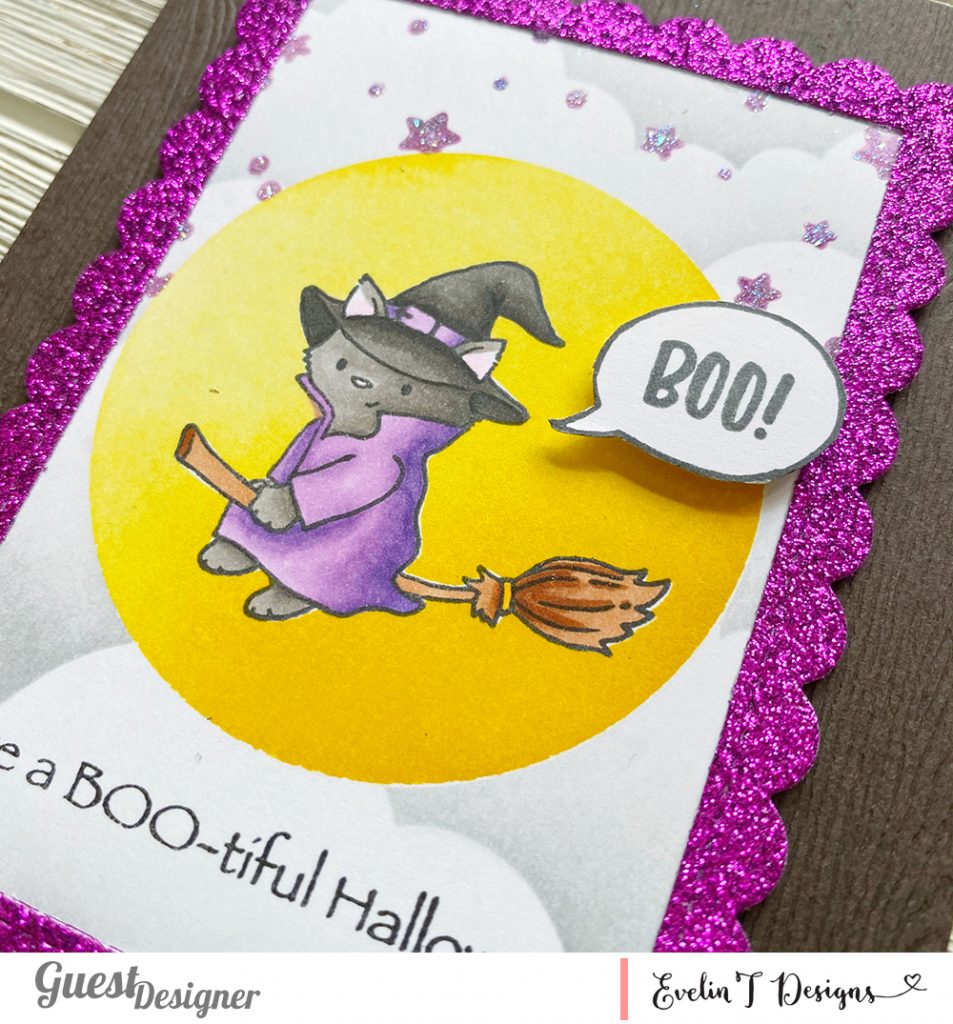 For the witch card:
Masked the witch
Stenciled in the moon
Masked the moon
Stencil in the clouds and stars.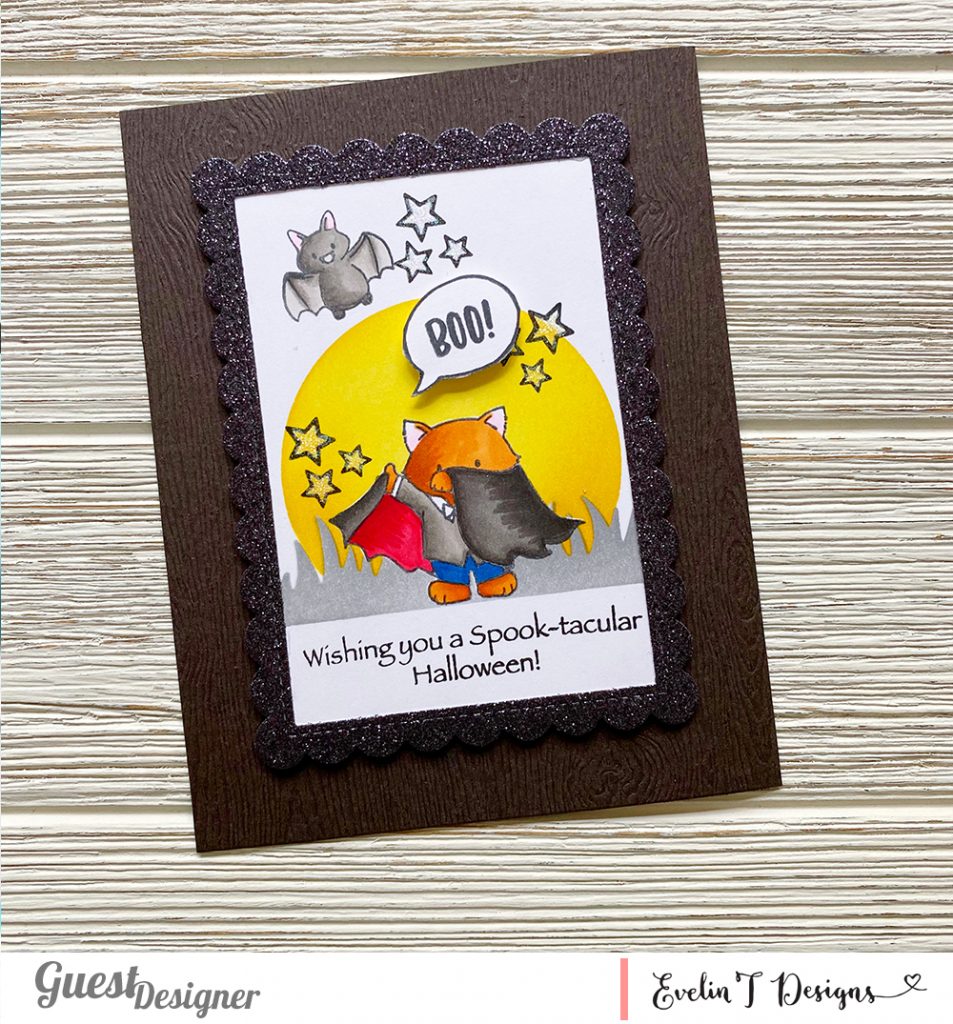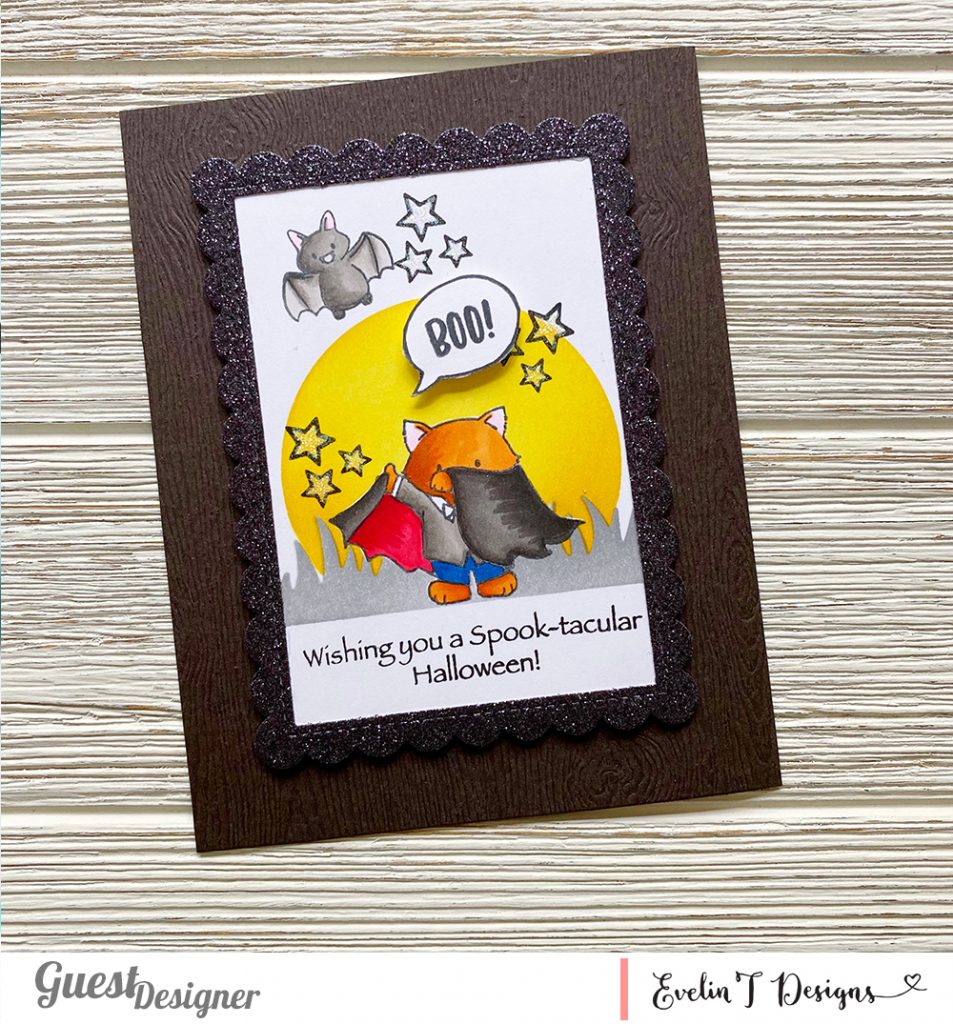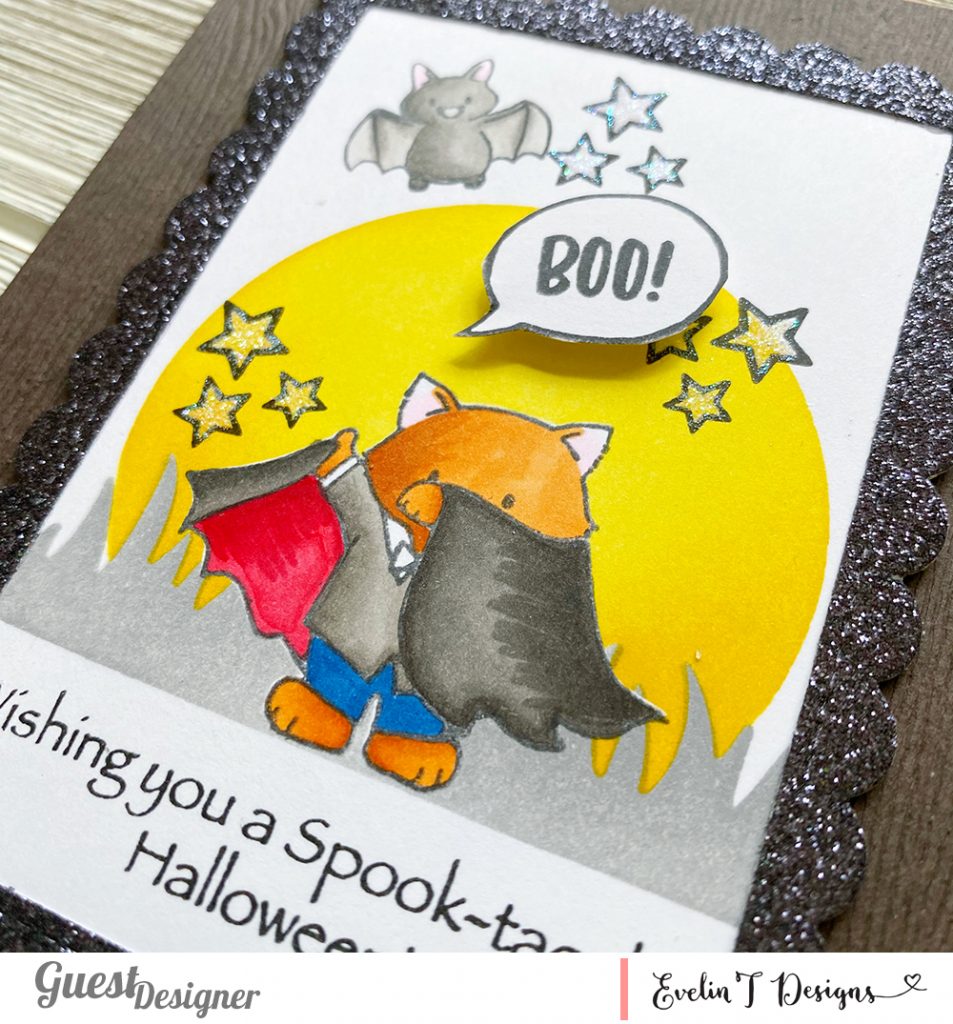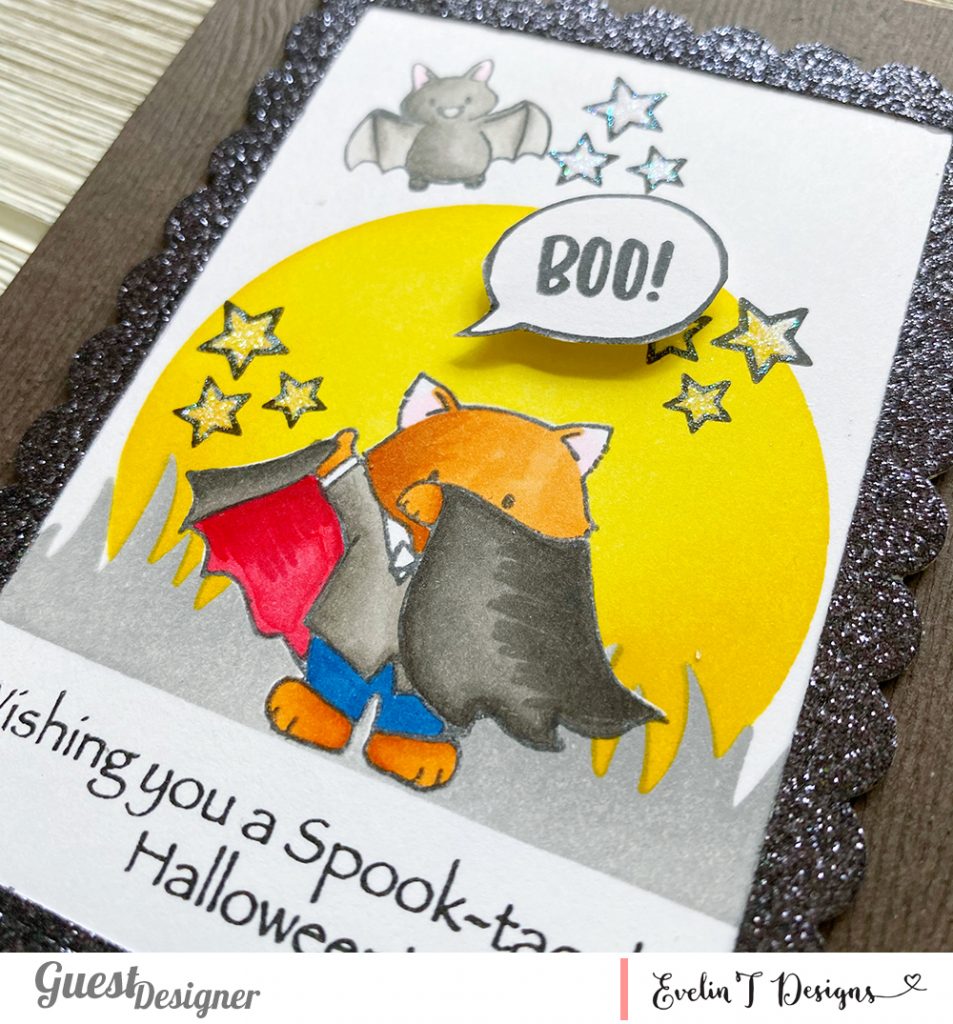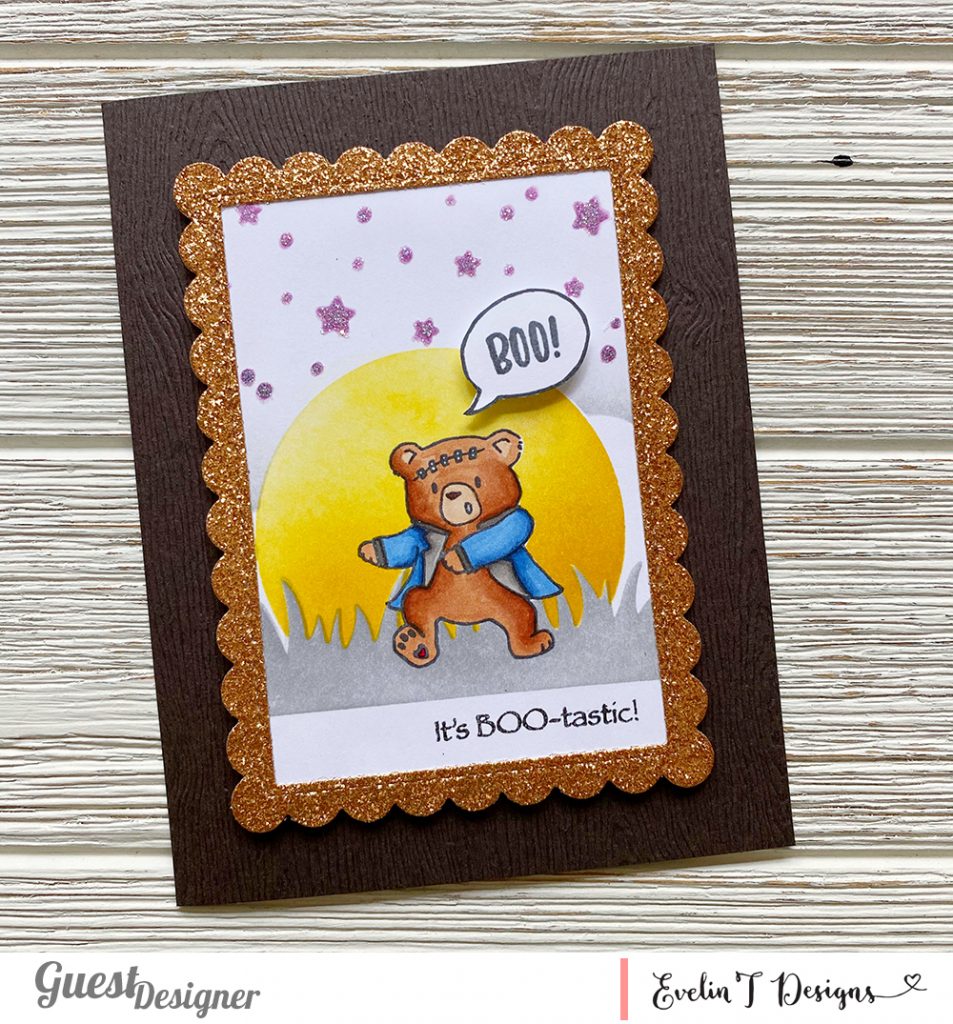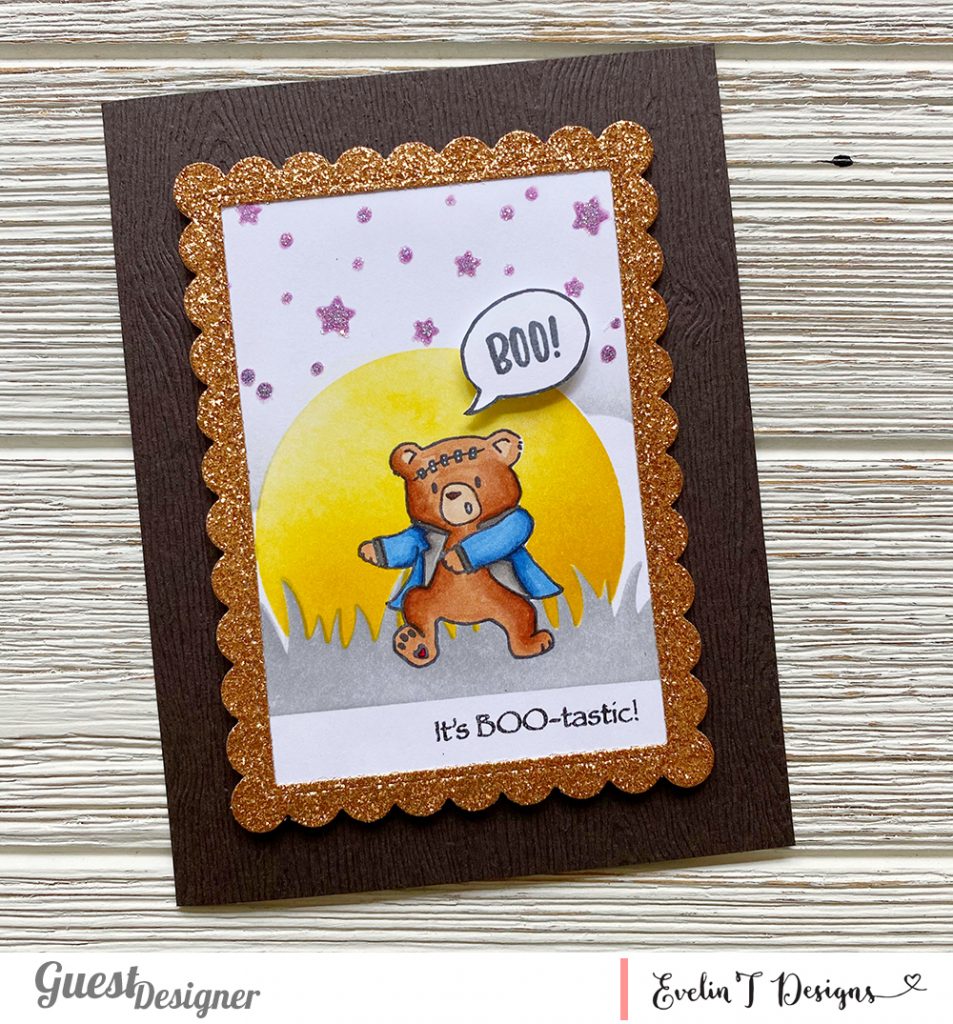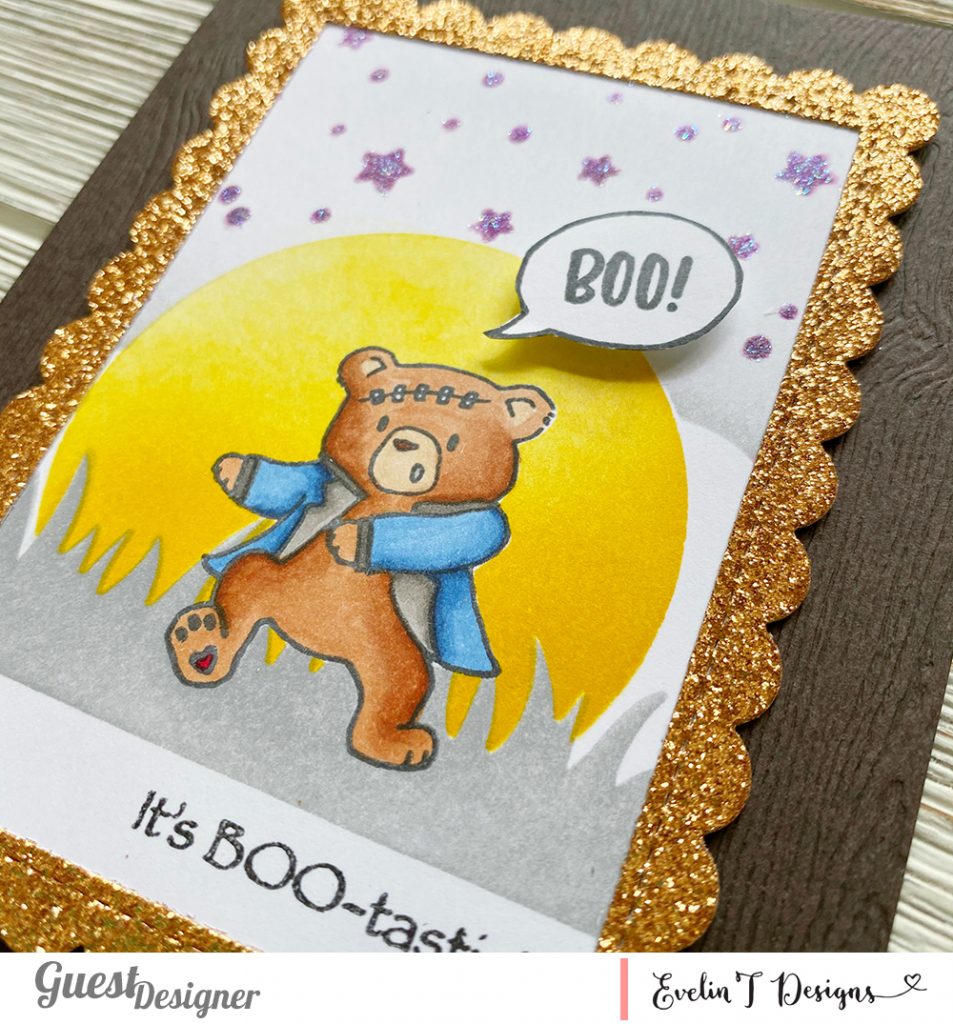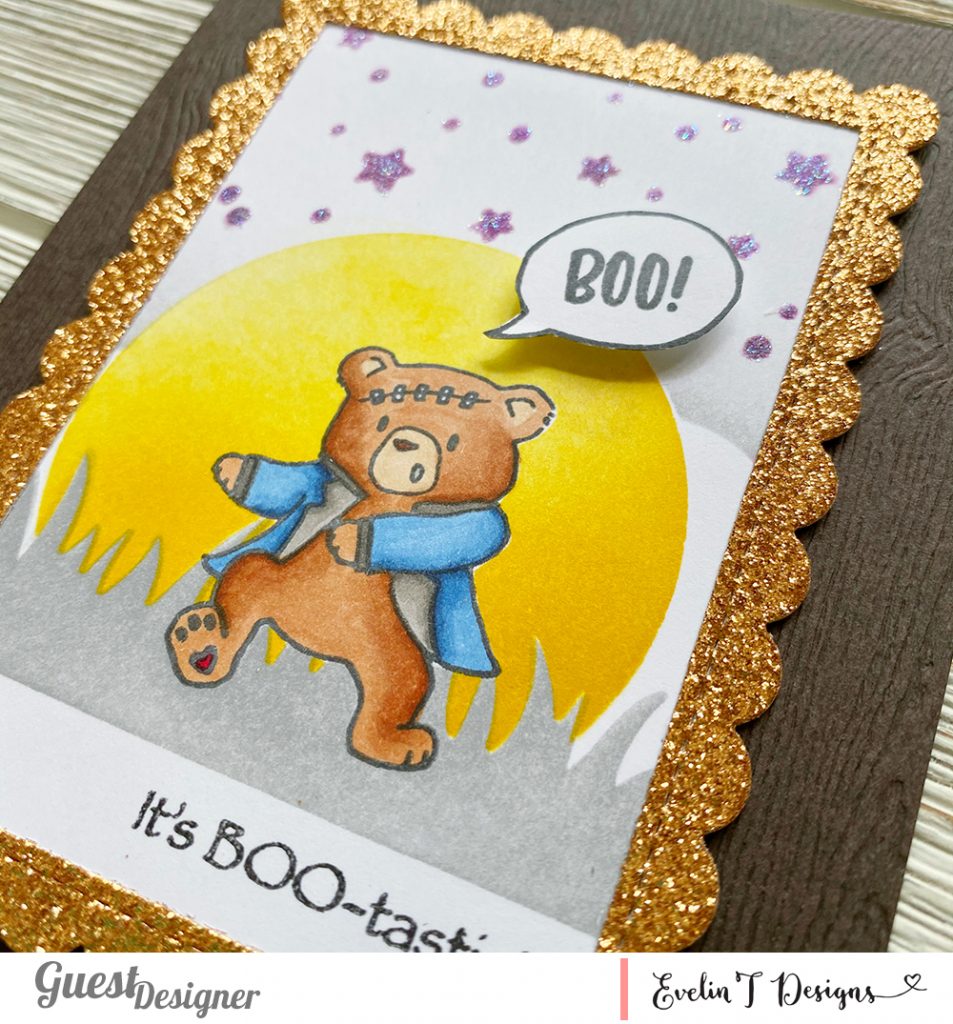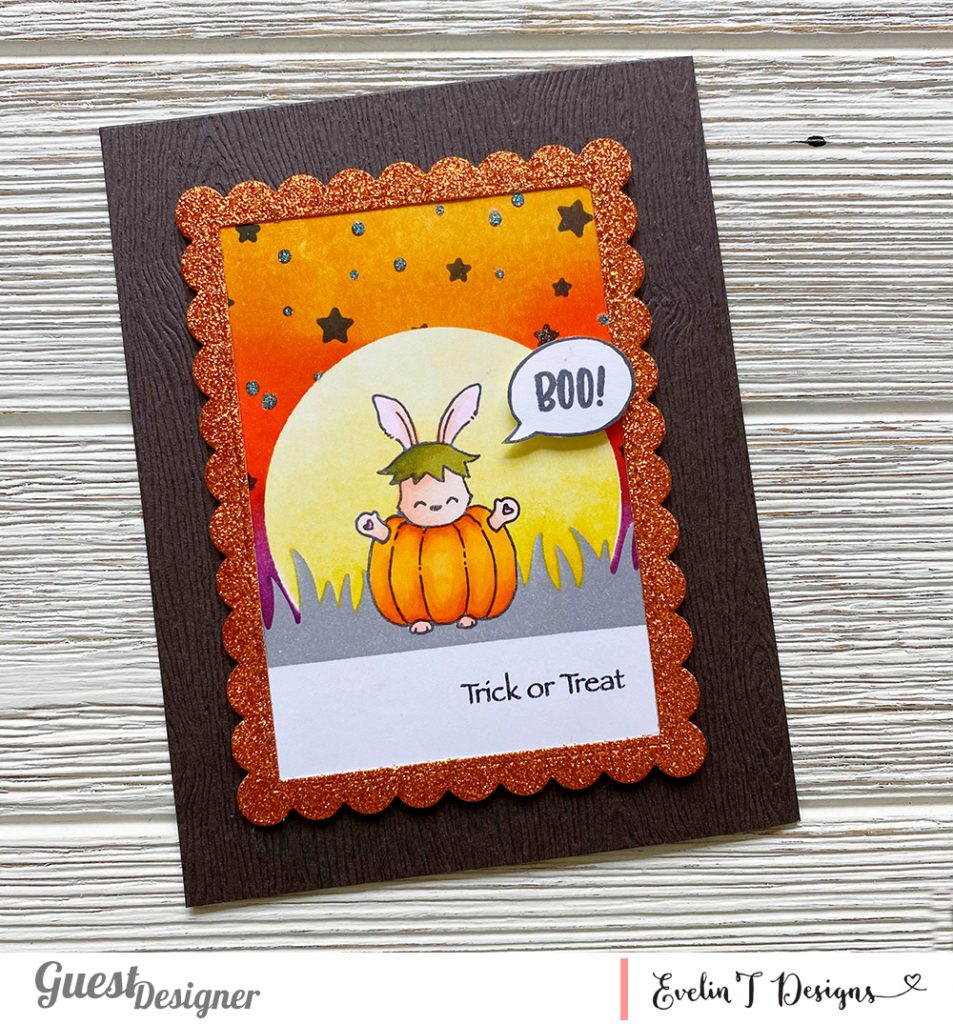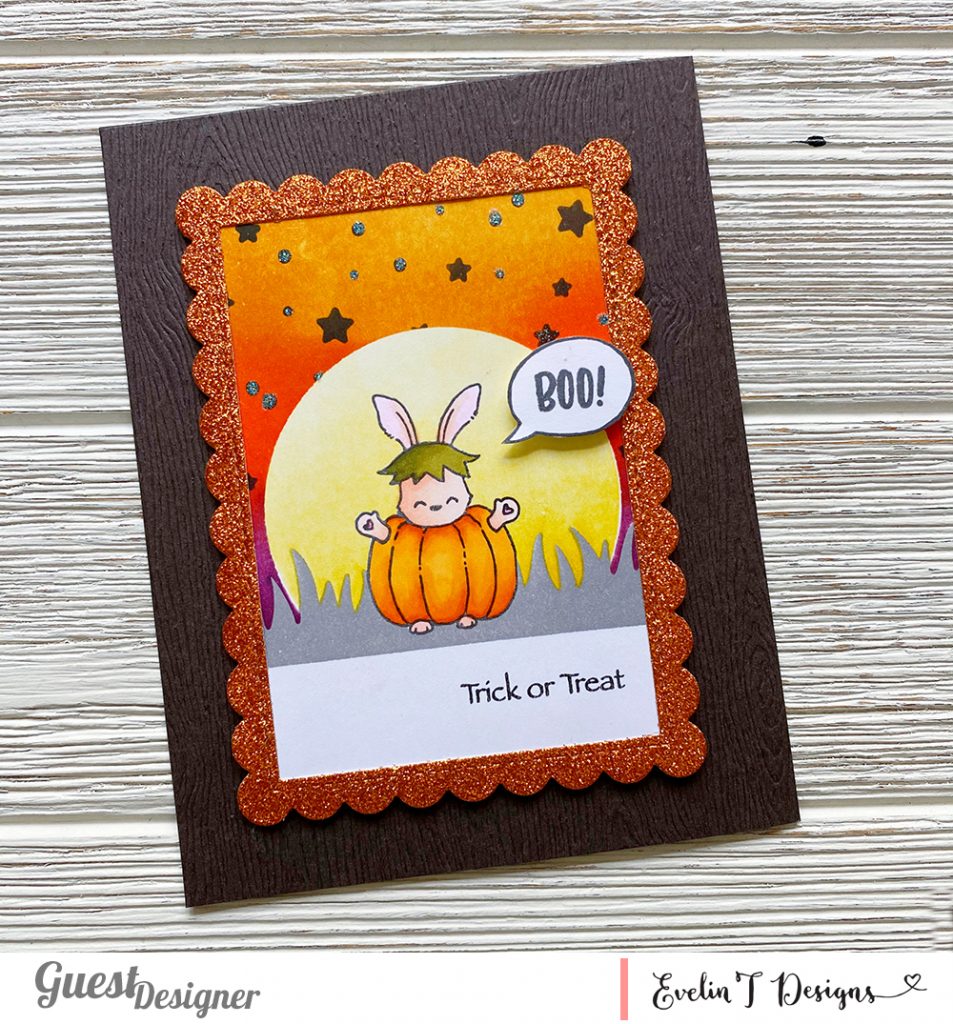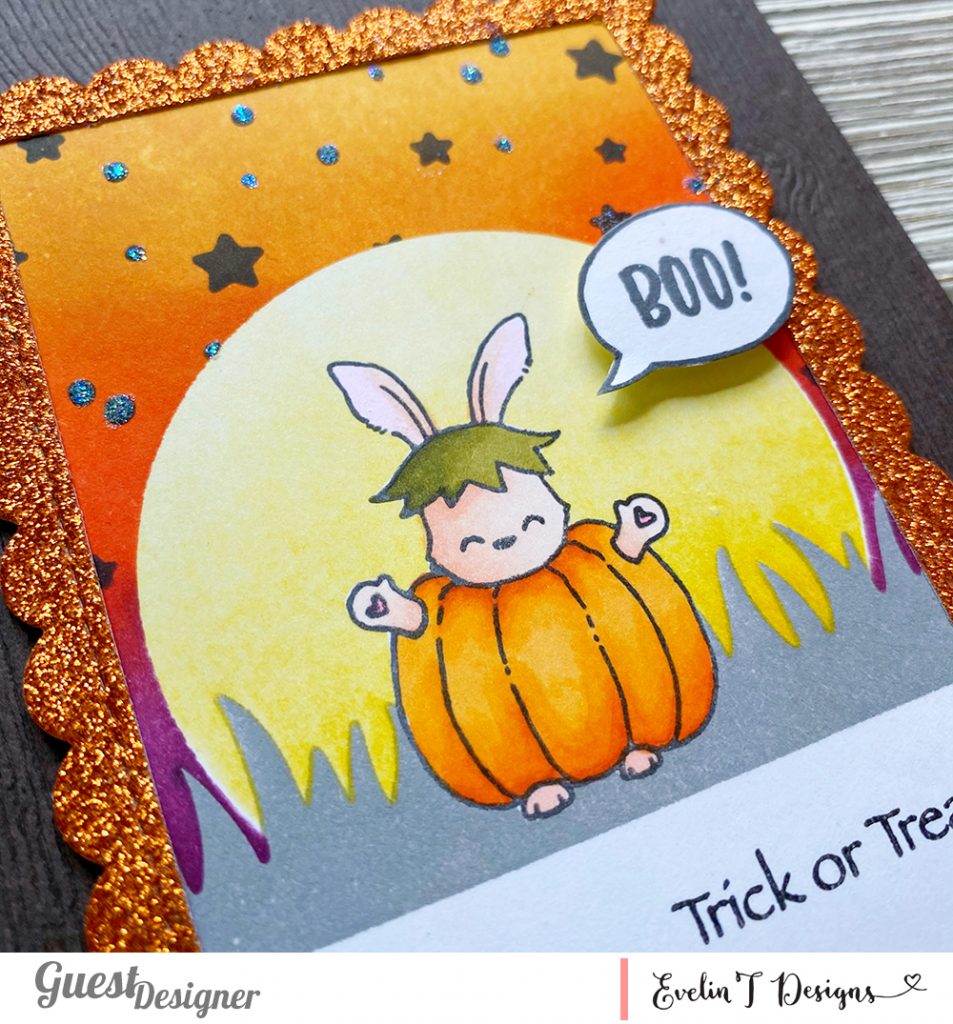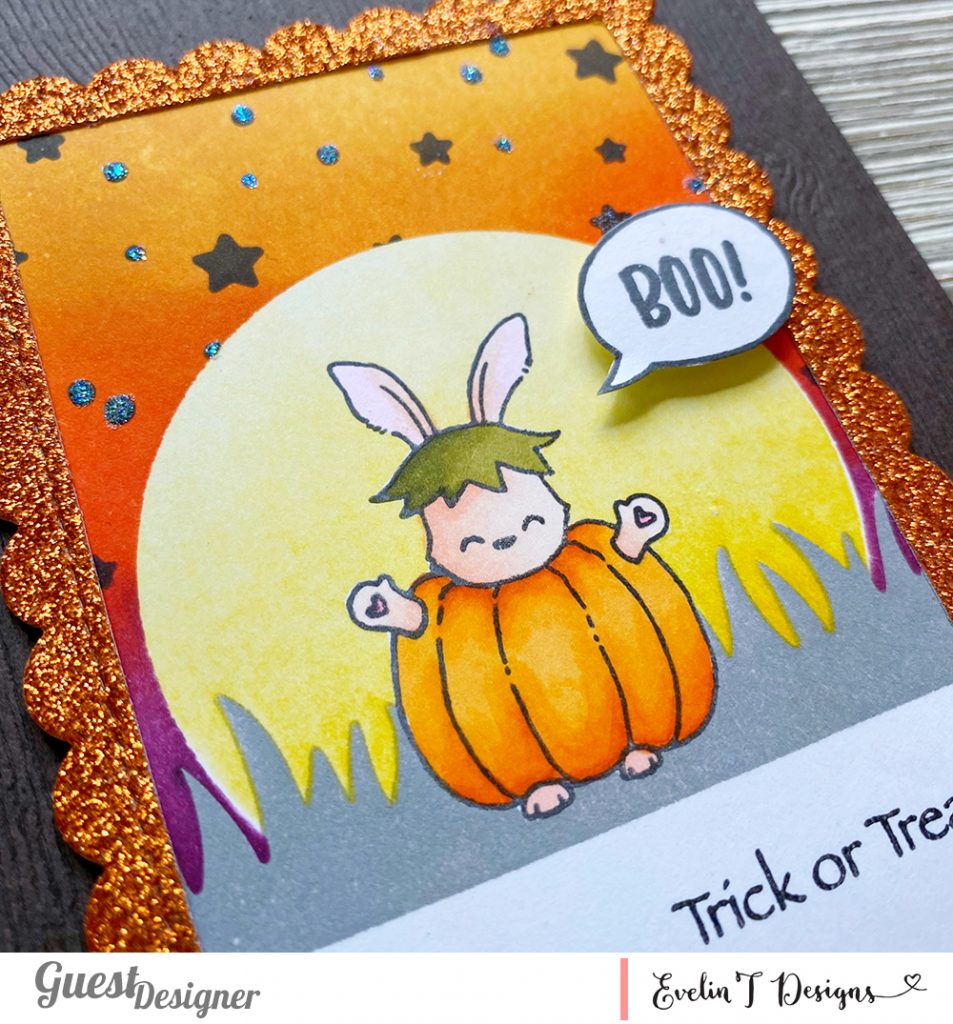 For the jack-o-lantern card:
Ink blended the grass
masked the grass
ink blended the moon
masked the grass and moon
ink blended the whole background with Seedless Preserves, Ripe Persimmon, Wild Honey, Mustard Seed Distress Ink
ink blended starry stencil with Black Soot Distress Ink
Finishing touches I did for each card:
I stamped, fussy cut out the "BOO" speech bubble, and adhered with a foam dot
I added some prisma glitter to some of the stars using a Quickie Glue pen and Prisma Glitter
TIP: with the Franken-bear card, my stencil moved a bit when adding the stars, adding glitter on top covers that small mistake up
Trimmed down each card to 2.75″ x 4″
Die-cut a scalloped frame from various sparkle cardstock for each card. Adhered the card to the frame
Stamped a sentiment on each card
Using foam, adhered these panels to an A2 card front made out of woodgrain cardstock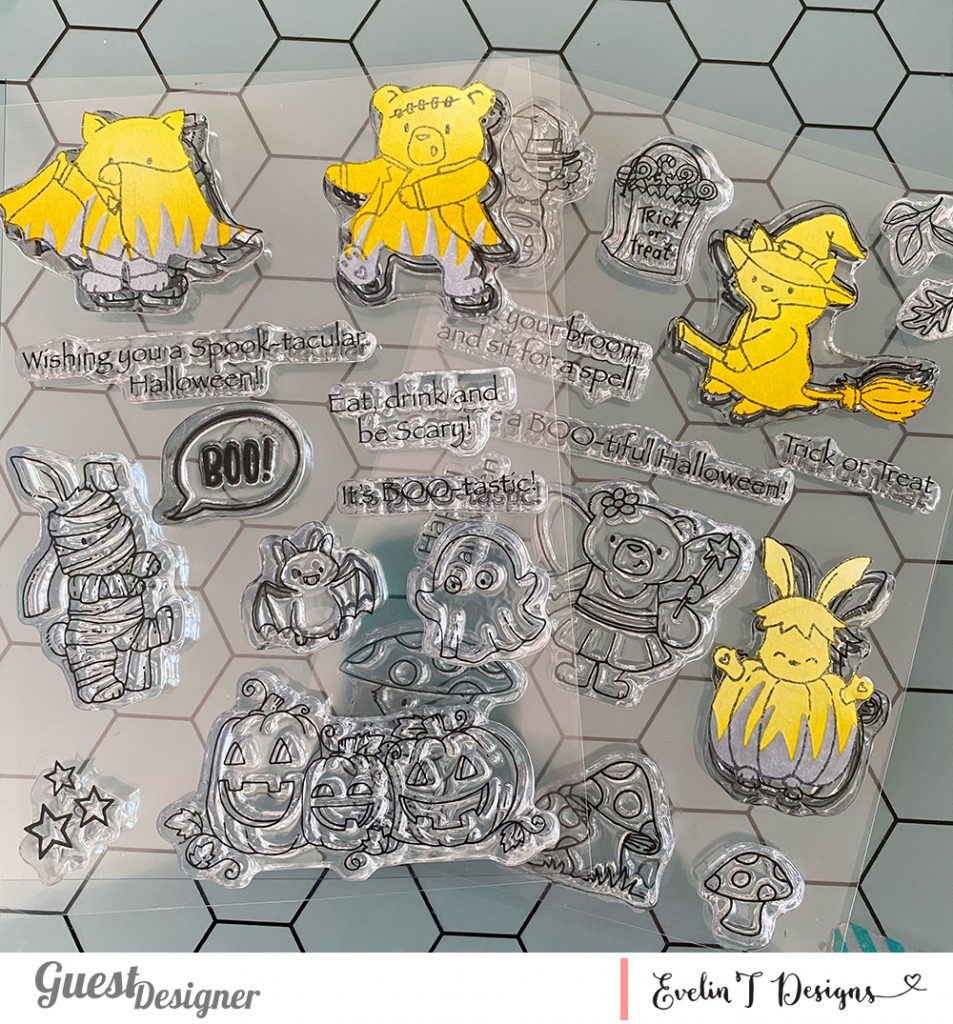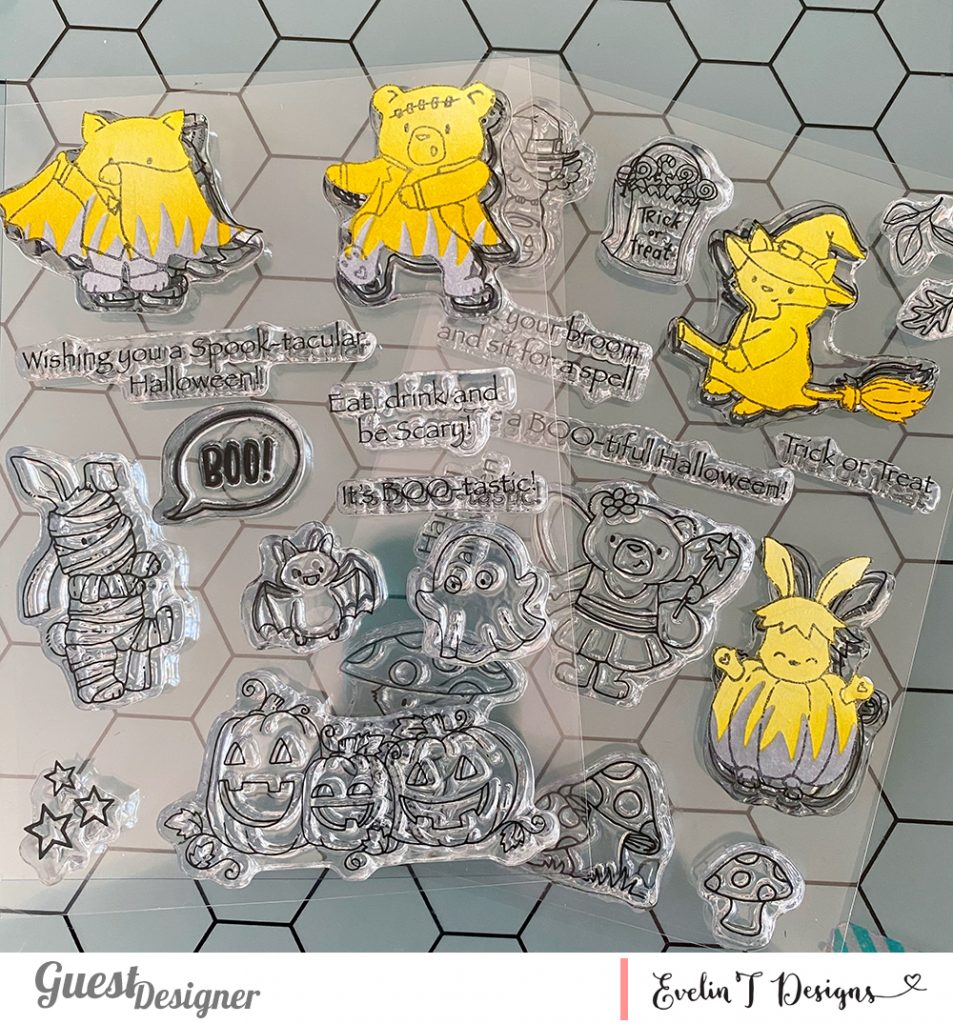 Time Saver Tip: If you go through the trouble of cutting a mask, adhere the mask directly to the stamp set so you will be able to use them again. When using masking paper you can use them over and over and over if you are gentle with them.
I hope you find these cards inspiring, and it makes you want to create some Halloween cards too, or experiment with stencils and masking! I have more specific details about the supplies I used over on my site here.
This is my last guest post for this month, just wanted to say a BIG thank you to Evelin for inviting me to share with you guys! This has been so fun!